Or so said my email. I get a lot of spam that says that. Fortunately my mail filters eat most of the spam so I don't have to waste time and get disappointed that I didn't really win. Of course, if I actually bought lottery tickes and all that, then maybe I would win once in a while. That's what I'm told. I don't like the odds though so my money stays in my pocket.
Somehow this one 'spam' got through. I went to delete it and I saw it was from ClustrMaps, the people who make the neat little world map with red dots in my side bar. The map icon shows where readers of this blog are visiting from, which is pretty neat. I love maps, have drawn them for a number of books and was delighted to discover this little tool last fall which I wrote about in December.
Looking at the email more closely, I realize that this really was a personal message and not spam. Apparently, I really did win! ClustrMaps chose me as a great example of their product. Cool! It's always fun to see one's name 'in-print'. So now they've given me a free upgrade to their normally paid ClustrMaps+subscription level for two years. That means that starting today, after they did the next map update, you and I can click on the icon at right, go to the big map at their site and then click on regions, like the United States, Europe, Australia, etc and see a still more detailed map. Fun stuff! So which dot is yours?!?
Click on Europe on the big world map and you see this: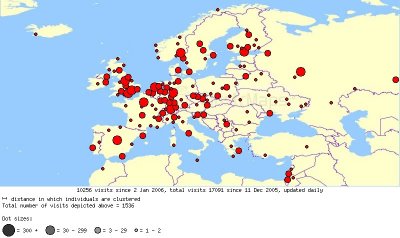 Click on the UK and you see this: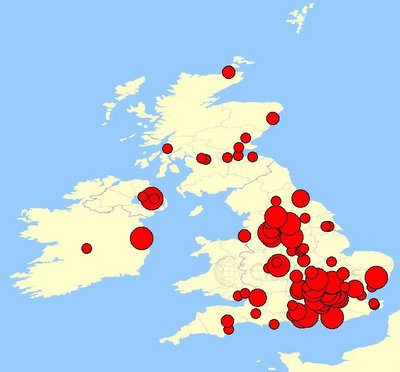 I must admit I am very curious as to how I ever gained such readership in such far away lands. Apparently my words and photos are very well travelled, more so than I'll ever be!
Back to the world map and click on North America to see this: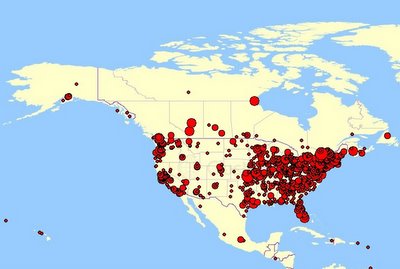 Unfortunately you can't click closer than that. I hope that ClustrMaps eventually lets us click down to individual states and more countries. A larger image would also be a nice option.
ClustrMaps is a great tool. A visual representation of where visitors come from makes the whole world seem closer in a pleasant way. I have seen maps like this on a few other stats and counter services such as SiteMeter which I also use for other stuff but I like the ClustrMap implementation best. ClustrMap doesn't rely on Shockwave Flash plug-ins which I do not like because it uses up more computer power, is a security risk and means flashing ads all over the web. ClustrMap also does not require javascript or java and it runs fast since they only update the map icon daily, at most. This means that the image doesn't have to be regenerated on the fly. All good points for ClustrMaps.com This keeps my web page loads fairly quick. Last week I added a free ClustrMap to my NoNAIS.org web site and am planning to do it on the other sites I maintain.
Around here the pigs put the bacon on the table, so to speak…
32째F/26째F, 1″ Snow, Light Sleet, Cloudy.
Tags: ClustrMaps statistics map world visitors