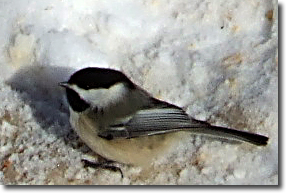 This has been the warmest winter on record since I've been logging the weather here on the mountain (16 years). Is this global warming? The 11 year sunspot cycle? Something else? We're due for an ice age any day now so mind you I am not complaining in the slightest. Yes, more snow would be nice for the snow boarding. But this is our first year farrowing pigs in the winter and the remarkable warm weather has been a blessing. Extended periods of -20°F (-28°C) and even -45°F (-42°C) during the day are normal here, sometimes for weeks at a time. It can make breathing difficult – you take chores real slow and don't touch anything metal with your bare hands. Many years we've had a month or more of never getting above 0°F (-17°C) even during the day.
This year has not been like that at all. We had a few days below 0°F but for the most part it has been a balmy 20°F or so. Often days I don't bother putting on anything more than my light house jacket during chores – my heavy full body winter work suit hangs unused in the grate hall. I'm sure the piglets have appreciated it. I'm glad they got to be born into these warm temperatures rather than the searing cold of a normal winter.
So, sun spots or SUVs, I'm thankful. I couldn't have picked a better winter to first start experimenting with year round farrowing. It is always nice to get lucky.
29°F/21°F, 1″ Snow, Sleet, Rain, Cloudy.