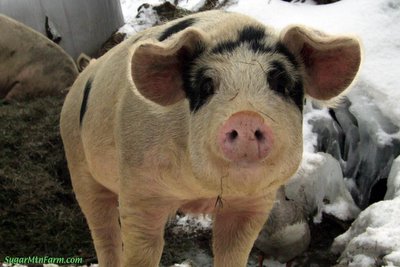 This is Cystine. She is a healthy little pig. All 200 lbs of her. She has always been a survivor and it is pretty amazing that she made it. Cystine is so named because she was born with a large fluid filled cyst between her front legs. This rapidly grew to totally cover her whole right front leg and more. She looked like she had elephantiasis. Yet she was never in pain. There was nothing to do for it so I just watched to see how she would fare.
I kept her since I wasn't going to sell someone a piglet with a deformity. Fact is, I hadn't expected her to live past a day, then a week, a month, two… When she was about three months old the cyst started to get smaller until it was gone. She was left with a very baggy look due to the stretched skin but in time that too disappeared as she continued to grow.
Now at five months of age Cystine looks almost completely normal. I know she's the one that had the huge cyst but you probably wouldn't pick her out of the herd. She's the same size as her litter mates. She romps in the snow covered field and plays in the hay. She's right front and center at feeding time. Cystine has never let her disability get in her way. It isn't clear to me that she ever was aware that she was different from all the other piglets. She's a lesson to us all.
29°F/21°F, 2″ Snow, Partly Sunny.