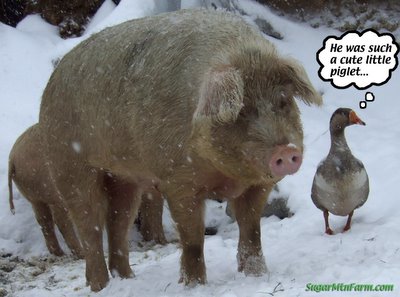 Goose got his pet pig when it was ever so cute and little. Apparently Goose did not read my previous post about this. Ever week or so someone calls or emails me asking about getting a pet pig. They are so cute when they're little pink new borns. Who couldn't love them. Recently I been getting more of these requests with the new piglets being born, the count is now over 50, and the photos on these pages. Yes, piglets are very cute – for about three months. Then they start getting big. I still like them but do you really want a pet that is:
Birth = 3 lbs
Three weeks = 10 lbs
Six months = 225 lbs … annual feed cost = $130
One year = 350 lbs … " " = $500
Two years = 650 lbs … " " = $700 (Archimedes above)
Three years = 1,062 lbs … " " = $1,100
Four years = 1,500 lbs? … " " = $1,600 per year!
Five years…???
They may not stop growing even then. Pigs can live to ten or fifteen years if they aren't over fed and get too fat. I've heard they grow continuously. Properly raised they're very friendly but big as a short legged horse. A big short legged horse. I've read of them getting over a ton. That's like a small car. I met a pig that was taller at the shoulder than I am at the top of my head (5'8″). He looked like a mini-van and lived in a school bus. If you're going to insist on getting a farm pig then plan on having a big space for it!
I think part of why I get these calls is that people think they can save money and get a farm pig as a pet rather than paying the higher many hundred dollar price of miniature pigs like Vietnamese Pot Bellied Pigs. In the long run a farm pig will be a lot more expensive – check out those feed bills! Man, he eats like a hog!
If you want a pet pig be sure to get a miniature like the Pot Bellied Pigs. Even those get big – think 150 to 200 lbs. A dog might be a better choice. Or at that, maybe a cat… :)
29째F/12째F, 6″ Snow here in Vermont