Piglets are popping out all over. Today Mouse, Big Pig and Long Nose all farrowed. The other four sisters all look like they'll go any day now. It is quite amazing to have them all going so close together because they all farrowed at widely separate times last time. In the past the boars we have borrowed only mated one sow a day so the piglets ended up spread out. Archimedes, our boar pictured below, is our first boar. We got him in trade with Archie, a farmer up north of us who has been a great source of info about pigs. The boar was a busy fellow and quite the performer to have bred all eight of the big sows at once. We kept back the best five sons of his for trading out as young boars. I wish I could keep one myself as they are looking fine.
The piglet count to date is not clear yet as Big Pig was still farrowing when it got dark. I peeked in and saw several with her but didn't want to disturb her further in the waning light. There were at least 30 new piglets in addition to Little Pig's ten from yesterday. Some already have deposits on them – if all of these wean we will be ahead. Last year we had over six hundred requests for piglets – it was a tight market for many reasons.
As of my last count, Mouse had eleven piglets all nursing and looking healthy. She farrowed late in the afternoon. Like both Long Nose and Little Pig she chose to farrow in one of the hill dens. She was not inclined to move so we brought her more fresh hay which she appreciated and immediately added to her nest.
Long Nose, shown at the top with her fifteen piglets including the littlest walking on her, is doing her part to keep the average high. She weaned fourteen piglets last time which was excellent for a first time gilt. After she had a bit of time to recover from birthing we moved Long Nose and her piglets into the farrowing greenhouse next to Little Pig. They seem to be getting along just fine. One of the nice things about the mixed age herd having been together with so much free space that they all get along really well.
In the picture above it looks like Long Nose and Little Pig are in a cage. They aren't. The 666WWM wire is just the structural ironwork of the greenhouse. The door on the front is open so they can go in and out as they like as shown in the photo below.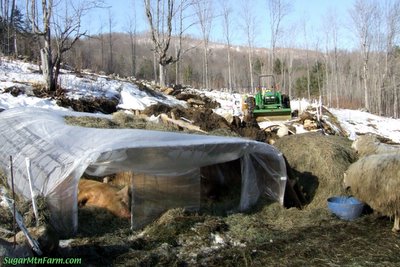 Several people have asked in comments and email about the construction technique for the farrowing greenhouse. It is quite simple – basically a double arch of 666WWM inside a third arch for structural strength. I'll write up what we did along with some drawings and photos after we've had more time to see how well our new winter farrowing digs perform. That will give me time to learn what gotchas there are in how we're doing it. This is the first year we've had sows farrow in the cold winter weather so we're on the alert for surprises!
"Life is a grand adventure which will eventually kill you."
31째F/23째F, Sunny, Cloudy, Windy, Snowy (1/10th"?)