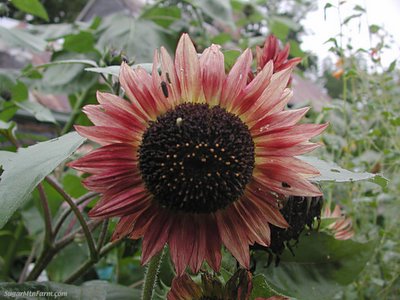 This red sunflower with its entourage is to remind us of summer. Summer is not all that far away in either direction but on days like this it bears thinking of. The cold makes it seem distant but the days pass quickly. Time to be planning gardens and dreaming of sun warmed soil.
We've been building large 666 WWM wire tunnels which we'll soon cover with plastic. I spread ash in them yesterday raise the solar absorption rate to melt the snow faster once we cover the greenhouse tunnels. With this fresh layer of snow I'll need to spread more ash. That is not a bad thing as it will sweeten the soil, raising the pH and making it more hospitable to most veggies. In a couple of months the ground inside will be warmed and sprouting any weeds. Then I'll let the young chickens in to weed it for a few weeks before I start very early season planting.
We've been trying to grow watermelons each year – a big desire of Ben's. So far our biggest has been just 4″ across. But it was thin skinned and deliciously sweet. Perhaps with the extended season of the greenhouse tunnels and their added warmth the watermelons will do better.
To dream, perchance to garden…
21째F/-5째F, 6″ Snow, Extreme Winds