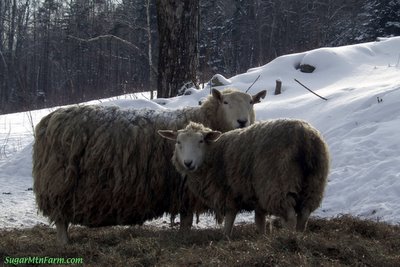 These are white Montedale sheep. At least they look white in the summer. In the winter they appear to be anything but white because of the extreme contrast of the glaring white snow. It is amazing how we don't really see colors but rather we see comparisons, contrasts between colors. The fact is the sheep are still the same color. If anything they're whiter in the winter because they are cleaner. But with the contrast of the ultra-white snow they appear grey with maybe a hint of yellow.
In the summer Lili is a white dog. No question about it. It was the same for her grandmother Tika. But in the winter you see the gold in their fur in the contrast to the bright white of the snow.
Similarly the pigs look white or maybe a tiny bit pink in the summer. Come winter they look more yellow red. They're the same color but the background has changed and with it our perceptions.
Come spring time when the leaves burst forth with their green these animals will all appear white again…
"There are always two choices, two paths to take. One is easy. And its only reward is that it's easy."~unknown
27째F/10째F, 3/4″ Snow, Sunny
Tags: white snow color LGD livestock guardian dog Vermont vt