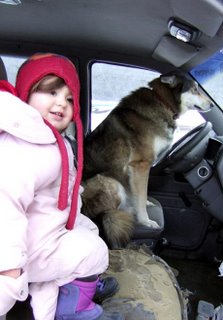 When we travel we usually have a dog with us. The dogs are acutely aware of the position of power within the car and as you can see here, Kita is sure that this time, she'll finally be given the keys and allowed to drive the car. Sorry, Kita – you can't reach the pedals and besides, she's not old enough to get a license!
Kita is actually too big to be a good car dog because she can sit with her butt on the back seat and her nose touching the dash board of our mini-van. This leads to her wanting to play with the manual stick shift, the heater, fan and the radio.
Her brother Hagrid was worse. By the time he got to big too fit he was sitting with his butt on the back seat and his nose firmly against the glass of the windshield with his chin on the dashboard. Hagrid was well over 100 lbs and 7′ long from the tip of his tale to the end of his nose. He had definitely outgrown car dog status by then, if not before.
Likewise Saturn and Cinnamon are really too big for the job. Frankly so is Kita but she says 'please' and so we take her on occasional short trips down to the post office or the like. It is a big event for her and she enjoys it immensely. Perhaps she likes a little variety in her life since she spends most of her time out on the field with the pigs and sheep or doing chores with me. I know occasionally I too feel like going down off the mountain – it reminds me of how much like like being up on the mountain.
Kia and Lili, our two smallest dogs are the ones who normally pull car dog duty. They are trained for in-town where they meet other people plus they fit well in the car due to their smaller size. Both Kia and Lili are quite good at their job. What job is that you ask? Well, strange as it may seem, even way out here in the country there have been cases of carjackings some of which have ended in murder. I figure that a carjacker seeing a large dog in the car is just going to move on down the line and skip us. This is not a pleasant thought but then life sometimes has it's dangerous currents and under tows. I prefer to bias the odds in our favor.
17째F/3째F, 1″ Snow, Sunny
Tags: LGD livestock guardian dog car Vermont vt
Sightings: chickadee