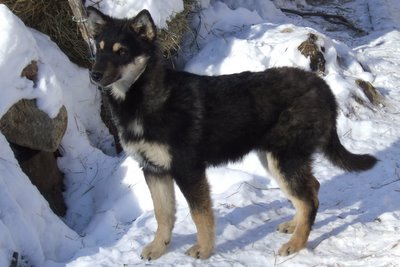 Kira-kira-lay-o-lii… That is how I called her. She is the daughter of Kia and has excellent herding instincts just like her mother. Kira's not so sure about the big pigs and the sheep – perhaps because she's so much smaller – but Kira loves to herd the ducks who winter in the garden corral and atrium where she spends most of her time. First she puts them into the greenhouse shelter amd dances about with pride. Then she moves them to the pallet shed and it is time for another dance of joy. The ducks are big, maybe bigger than her, but she has no trouble moving the flock around, keeping them together and showing off her talent.
Now Kira has literally gone to the other side of the mountain. A couple who are homesteading in the next town over saw Kia with me in town back before Christmas and asked if we had any puppies available. At the time I said no because Kira was promised to my brother. They gave me their name and address just incase for whenever we might have some. I filed it away figuring that was a long time off.
Then my brother and his bride to be decided they would like a larger, trained dog so I gave them Baloo for Christmas instead of Kira. I had been training Baloo for poultry, which they have, since that was his preference. All of a sudden Kira was available! The fates work in mysterious ways and chance favors the prepared. So I mailed a picture postcard of Kira to Bruce and Marylyn asking if they were still interested. They called right away to say yes. This week, at the start of a new year, they came to pickup Kira and so she starts a new adventure on the other side of the mountain.
Code is Poetry -WordPress.org
29째F/10째F, 2″ Snow, Overcast
Tags: LGD livestock guardian dog homestead ducks chickens farm Vermont vt