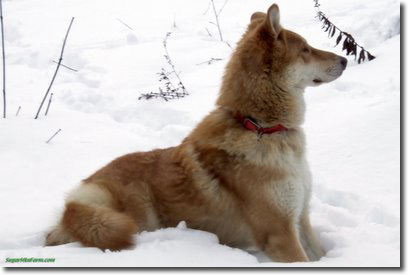 This is Baloo. He is a fourth generation working dog on our farmstead. Baloo is a poultry guardian dog by his own choice. He'll work with the pigs and sheep on occasion with me. He raises the alert to strangers or odd things happening ("Pigs out!", "Puppy stuck!"). He has even pulled sled in the winter with the rest of the pack. But his real preferences is for guarding the chickens, ducks and guineas as well as caring for the puppies. He is also a push over with babies. Two year old baby Hope rolls all over him with nary a peep from Baloo. Soon he'll be going to my brother and his new wife's home to guard their poultry flock and their coming baby.
At fourteen months Baloo is a lean 80 lbs and still growing so he'll be one of our larger dogs. He's at that lanky big puppy stage where his legs almost seem to long for him and his paws are still oversized. His gentle nature and unflappability in the face of flighty birds make him a natural for working with the poultry who often are a bit too tempting for many types of dogs. I think much of his personality, as well as his coloration, came from his father Cinnamon who likewise looks like his father Coy.
It is interesting how each dog is different yet at the same time I often see behaviors and temperaments crop up repeatedly. Tendencies that seem to come out based on genetics rather than environment. All of our puppies are born and raised right with the livestock. They smell, hear and finally see the pigs, sheep, chickens, ducks, guineas and our children from a very young age. Some of the dogs end up generalists, able and enjoying working with all of the animals from the 8 oz chicks to the 600 lb pigs. Others like Baloo seem to pick a specific animal type and prefer that for their work assignments.
Through training I can reorient a dog's focus but I prefer to work with their own inclinations. It is much easier on both the dog and I. It also saves time to work with their strengths. Finding their inclinations and working with them is a lot of fun. Watching them blossom into productive adult working dogs is a both rewarding and joyful process.
Happy New Years to one and all!
Saturday: 21°F/1°F, 1/2″ Snow, Partly Sunny
Friday: 23°F/7°F, 1/2″ Snow, Overcast
Thursday: 29°F/11°F, 1/10″ Rain, 1″ Snow, Overcast
Tags: LDG guardian dog livestock obedience farm poultry chickens ducks