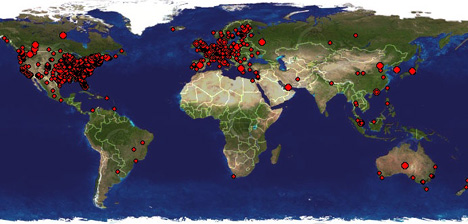 This entry is a bit recursive. Today I'm blogging about blogging. Specifically a rather interesting tool called ClustrMaps which give an idea of where visitors like you come from – the guests of Sugar Mountain Farm. I didn't imagine that so many people would visit from outside our area! To see a larger version of the map, click on the image above – it is fascinating…
When I started this blog it was a little experiment and I didn't know what was going to become of it. I wasn't familiar with blogs although I have a web site for our farm and my wife Holly's portrait gallery. I had heard the 'blog' term but only seen one, that of an online friend Charles Fry at Frog Pond Acres. A few months after seeing Charles's excellent site I ran across Blogger.com where I could quickly and easily setup a free blog. I enjoy writing. It's a fun evening activity at the end of an otherwise physically active day. I enjoy sharing stories of our life here on the mountain, goings on here at our farm and photos of life in the country. Sure, why not. And so an odyssey began…
Now four short months later the SiteMeter visitor counter has broken 11,000 which amazes me. I'm sure a lot of blogs get that many visitors in a day but it is still amazing to me that so many people have visited here. I have loved 'meeting' visitors and getting to know them here and on other blogs. All the great comments visitors leave are a real boost!
In early December I ran across ClustrMaps on someone else's blog and set that up here. The ClustrMap above tells the story of where you, my guests, come from in a most amazing way. Not only does it show how visitors have come from all over the world but it is an example of how software is able to automate an old task, the push pin map, in a new and better way. The dots, push pins in the old physical maps, place themselves automatically and enlarge as more visitors come from the same areas. Pretty neat!
Studying the map reveals all sorts of interesting things about the world and visitor patterns. In some areas the Clustring follows the population patterns. Yet there are other regions with large populations that are essencially void of visitors on the map. Africa and Russia have almost no dots. India too. Recently some more have been popping up in South America – Hi, Sonia! I'm not surprised there are quite a few in Australia (Hi, Abe & Happy and New Zealand – we're both essentially rejects from the British Empire. :) To my surprise there are quite a few visitors from China. On the other hand, it doesn't surprise me that most are in the USA and Canada but I didn't expect to get almost as many visitors coming from Europe. It has been fun to see red dots pop up to represent some friends from the physical world (Hi, J., K., B., L., P., W., D., and C.B.!) both here in Vermont, New England and else where.
Another thing that is cool is that many of you who have visited have then later written me emails from all over. It is a pity that email doesn't come with colorful stamps from foreign countries! But best of all though is the warm messages and interesting discussions from so many people. It has helped me get to know people in distant lands – places I'll never visit in person. Perhaps the web will help pull together the people of the world and we won't be such strangers. Maybe it will bring lasting peace to the world. I can dream.
I suspect that over time this map will fill in more and more representing the technological English reading populations. I hope that I'll see the empty areas fill in more as technology becomes more accessible to the poorer populations of the world. Information and sharing ideas are a power that can liberate people, giving them the ability to grow their own foods, make things for themselves, be healthier and gain more independence. "Teach a man to fish…"
So what is that thing that brings people here to Sugar Mountain Farm? What is it about this blog that interests so many diverse people across the globe? Is it farming? Rural life? How to articles? Kids? Vermont? Snow? Photos? Pigs? Other… What is it that brought you here? If you're more than a one time reader, what is it that pulls you come back? Share your comments below – I'll be fascinated to hear from you! Thanks for a most enjoyable first four months of blogging!
PS. While I'm mentioning great things, let me thank my web host, VONetwork who gave me a Christmas present of 50% more bandwidth for my web site in December when I was hitting the limits about half way through the month. Thanks, Nirosh – your the best!
25째F/7째F, 1/2″ Snow, Partly Sunny
Tags: ClustrMaps blog blogging SiteMeter visitors world