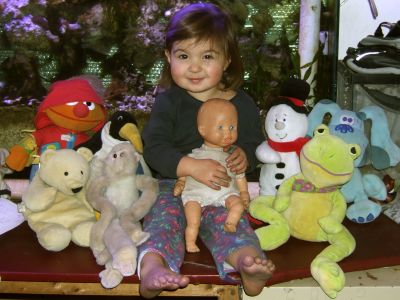 That is Hope and her friends. As she will adamantly tell you if you ask, she is "Two!" and quite proud of it. She asked me to take a photo of her with her friends using my new camera. I shot several and she said this one was "Good!" so we went with it. The photo looks a little purple, especially in her toes and hair. That isn't an overdose of Barney. It is just the lighting from my reef tank that is behind her.
Over the Snowman's shoulder you can see a piece of PVC in the tank. That is an automatic brine shrimp hatcher, egg sorter and feeder I designed and built for the clown-fish Nymocyst. She has learned how to suck the nauplii (baby brine shrimp) out through the straw. I swear I did not teach her that little trick. It is quite funny to watch!
Today was our first really cold day, starting out with +1째F for morning chores. The wind made it feel a bit colder than that. I think the ducks and new chicks really appreciated the new greenhouses we got up just in time yesterday. I'll talk more about that soon. It snowed all day, we got over 8″, which excited the snow-boarders, Hope's brothers, to no end. You can guess where they'll be tomorrow…
Since it was so cold we ended outdoor time early and spend the rest of the morning getting the kitchen cleaned up and ready for our new guest, the Christmas tree. I promised that when we got the kitchen cleared and cleaned we would go out to cut one and set it up. There are several in the pasture that I've had my eye on this year.
18째F/1째F, 8″ Snow, Overcast