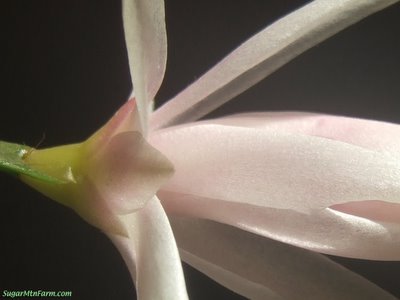 Fuji E900 100% crop 9MP ISO 80 f2.8 1/680s – Click to view.
That is a close-up of a Christmas cactus. All of ours are coming into bloom right now. In the last few days we've gotten the first two full blooms and then this third one has started to open. My father grows huge healthy Christmas cactuses in several colors. Amazing plants with frills and color in the middle of our darkest days. He gave me these and several other plants over the last few years and Will, my son, has been caring for them recently, saving them from my neglect. Under his care they have burst into flower.
The review of my new camera, the FujiFilm FinePix E900, that I did yesterday has brought in a slew of visitors. My blog had more visitors today than I normally get in a week! Several people asked in comments and email for a sample of tree branches backlit by a bright sky to see what chromatic arberation is like. I went through my last thousand photos and picked out the very worst example I could find as well as a typical example. Normally the CA is not very bad – realize that before you click on the image below to look closely at how bad it can be in the worst case. The image below shows this at 9MP RAW and blown up to 100%. The two inset shots are also at 100% blow up. (Sorry to those who asked for a complete RAW file, my server would not be able to handle the load as 9MP RAW files weigh in at 18.2MB. (Ouch!) It would kill my bandwidth quota for the month.) The image below does show CA at wide angle in the brightest part of the sky along the edge of the lens. No other photo I looked at showed anywhere near this much chromatic arberation (the green and purple along the edges of the branches). Hope that helps!
Do NOT buy the Fuji FinePix E900 digital camera. See this update.
RAW ISO 80 f8.0 1/300s 100% – Click to view.
23째F/14째F, 4″ Snow, Partly Sunny