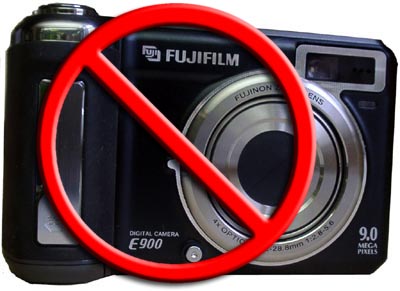 Do NOT buy this camera. See this update.
One week ago this hour I received my new camera and I have now taken over 1,000 photos. This camera is to replace my Nikon CoolPix 990 which had died for the Nth time and is no longer revivable. I ordered the replacement, a FujiFilm FinePix E900 digital camera, through Page Computers and received it on Friday evening (2005-11-25) last week. That night I did a bunch of indoor photography to get familiar with the camera's controls. Eventually I will read the manual, so far it has not been necessary – everything is obvious and the user interface is excellent. Fuji shoots and scores in the first inning with a hole in one. :)
For decades I had a Canon A-1 SLR film camera (1982) as well as the following digital cameras starting with the early Ricoh RDC-2, Nikon CoolPix 800, Nikon CoolPix 900, Nikon CoolPix 990 and my son has a Casio QV-2300UX which I have used extensively for the past month or so after my Nikon 990 died it's fifth and final death. The A-1 is what I learned photography on. The 990 has been my favorite digital camera to date. I hope the E900 will become my new favorite in time. It has a lot of potential and my first days with it have gone well.
None of the sample E900 photos in this mini-review have been retouched. Some images have been rotated or cropped to save bandwidth but they are at 100% with no modification to the basic image. In some cases there is an inset in a resized image and the image that shows at the first level is reduced to fit the blog's width – where possible I have included a 100% section inset and basic camera settings used for that photo. One of the images, the clown fish, is clickable to get the original file. You can download the full image to your hard drive where you can check the EXIM data for full details on camera settings and examine the pixels in your favorite photo editing program. Please don't download the full-sized image unless you really need it so as not to overload my web server. There are additional E900 sample photos in other postings on my blog on Saturday, Sunday and Thursday. My posting of a week ago Monday also discusses this topic. Also look to future postings as time goes on since the E900 is now my main pocket camera.
In getting the Fuji E900 I was looking for a small pocket camera with better optical zoom, small size, AA batteries, minimal shutter lag and ruggedness. My goal is something that is small enough to have with me all the time out in the field and woods, something that will tide me over until the better cameras I am expecting to be available in a few years. Inexpensive is nice too – the Fuji E900 costs 1/3rd what I paid for my Nikon. Later, when I get a better camera, I anticipate the E900 continuing to be my always available pocket camera.
Fuji FinePix E900 in a nutshell:
9.0 MP Octagonal double diode SuperCCD HR 5th Gen.
Stills: RAW, 9MP Fine, 9MP Normal, 5MP, 3MP, 2MP, 0.3MP
Video: 640×480, 320×240 both at 30 fps w/ audio
Lense: 32mm-128mm 35mm eqiv. 4x zoom, auto-cover, 3″ macro
Focus: Auto, Continuous, Center, Multi, Manual, 64-TTL
LCD: 2.0″ 115,000 pixel, low light gain up
Viewfinder: Yes, no diopter corr.
ISO: Auto, 80, 100, 200, 400, 800
White Balance: Auto, Fine, Shade, Florescent Daylight, FlorWarm, FlorCool, Incandescent, Manual
Aperature: f2.8-f5.6 on zoom, f8 maximum
Shutter Speed: 15s – 1/2000s
Shutter Lag: 1/100s
Startup: 1 second to extend lense & bootup
Other: Auto bracketing, self-timer, tripod socket, real-time ±2.0 exposure compensation, sharpness, contrast, hue, chrome, b&w; shooting mode, continuous shooting (1.5fps for 4 frames or 0.6fps for 40 frames), PictBridge, DPOF, EXIF Print 2.2, Popup Flash
Ports: USB 2.0, Video out, 3v power
Memory: xD Picture Card – I got 1GB for $72
Power: includes 2 x AA NiMH 2300mAHr+Charger
Dimensions: 4.0″x2.5″x1.875″ (real measurements by me)
Weight: 9.24 oz (with batteries, strap and card)
List Price: $499
Best Price: $413
There is more – for the full specs see Fuji's web site.
Note that my measurements of the camera's size and weight are greater than those given by FujiFilm. I measured the actual size with protrusions (hand grip) while the camera was off (lens barrel retracted) the way it is when I stick it into my pocket. Fuji only measures the thin dimension of the body without the hand grip – that is a little deceptive. Secondly I consider their weighing it without batteries, strap or card to be rather odd. The real weight, as you would carry around and use it, is the 262 grams (9.24 oz) which is what I list above. Those are real world numbers, not deceptive marketing stats.
One little detail I had to get used to was that the camera is small enough that my hand initially cramped after using it for several hours. The buttons are well placed and large enough. It is just that the body of the camera is small enough that I am getting a hand cramp. This may fade as I get used to the new camera. I hope so. Otherwise I like the small size.
The body is well rounded, rubberized on the grip, feels solid and all the controls are well located. It would be nice if it were made of metal but the plastic seems rugged enough. There is nothing to snag on clothing. This makes it so the camera slips easily in and out of my temporary carry pack for it – one of my son Ben's small socks. The carry strap socket is recessed, unlike the protruding ones I've seen on some cameras, and the strap has a chinch so it won't slip off my wrist accidentally – a nice touch I've added to other cameras. I personally like the black with chrome combination as it makes it easy to find the camera if I, heaven forbid, drop it in the snow, grass or leaves. Believe it or not, there are seasons around here when you can drop an orange, red or yellow object and have a hard time finding it – forget green!
The E900 comes with a pathetic 16MB memory card. Order a 512MB or 1GB xD Picture card when you get the camera, possibly from a different vendor if that will give you a better price including shipping. Shop around. I saw prices as high as $141 for 1GB and as low as $72 for the exact same thing. I got the SanDisk 1GB Type M memory card from Page Computers at the same time I order the camera. They had the best prices. SanDisk is top quality and actually makes the cards for other vendors. The Type M has some people worried about speed – I have had no problems with it. It records JPG, RAW and video fine. On a related note, a new Type-H high speed xD Picture Card was just announced and should be available in December 2005 in a 512MB capacity and then 1GB in 2006.
Speaking of speed, the E900 is fast. I have always been frustrated by the shutter lag on other digital cameras. With the E900 it is instantaneous. I press the shutter – it takes the picture. Yes, you do need to get the settings first, but even if you are using automatic modes and it has to do acquisition of focus, white balance, etc, it is still fast. This is critical to action shots, photos of animals and children who don't hold still for their portraits.
Start up time is very fast too. My kids joke about using it as a spy camera that when you turn it on the lens shoots out and punches the bad guy in the head knocking him out and saving the day. Start up time is under 1 second including booting up the camera software, turning on the LCD and extending the lens barrel. Very impressive.
Saving images to the memory card is also much faster than my Nikons or the Casio. It takes under one second for it to save a 9.0 MegaPixel Fine image (4.5MB) and about six seconds to save an RAW image (18.2MB). That is amazingly fast. Part of this is that the xD Picture Card format is fast. I was disappointed to have to buy one more type of memory card but maybe it will be worth it to get this speed. I plan to get a second memory card down the road so that I will have a backup. It would be a real bummer to be on a trip and have the memory card fail or get lost – they're tiny!
The E900 is also very fast at transferring images via the USB to my PowerBook Pismo. It is even faster on my son's iMac G5 which has USB 2. The E900 has the high speed USB 2 interface so it is ready for high speed connections. My PowerBook has the older USB 1 interface. Yet they talked beautifully – backward compatibility is wonderful. With my other digital cameras I removed the PCMCIA or CompactFlash card from the camera, inserted it into my PowerBook's PCMCIA card slot and then transfered the images. That was slow. Seeing how quickly the E900 went with USB made me realize I wouldn't need to bother buying an adapter or card reader for the xD Picture cards. That saves a chunk of change. Newer computers with USB 2 should see an even greater transfer speed than I get with my older computer.
Now some bad news, the E900 is not great at focusing. I would rate it okay. Most of the time it gets the focus lock, which is indicated on the LCD rather than with an AF (Auto Focus) LED lamp as common on other cameras. On occasion the E900 can't find a focus in low light or when something is too close – too close is farther away than one would guess. Better lighting helps. A similar view with high contrast or more light helps. Switching to macro view even if you are not super close helps. It would be nice if during manual focus it indicated a distance. The Nikon 990 had that and I miss it. An annoying thing about the manual focus is it is lost when you switch to play mode to review an image. When you come back to record mode to take the next shot you have to once again set the manual focus. This also happens if the camera is turned off, either by the user or automatically. A bother. The problems with the focus are not a deal killer though for me. With practice I am learning it's little quirks.
The photo below is my favorite from the last 1,000 pictures I've taken with the E900 this week. Check out the insets for details in the fin, scales and anemone skin texture. This one links to the full sized image at the camera's full 9 megapixel resolution. If you are going to click on just one photo to get the original high resolution version, this is it. Beware that the image is a 9MP Fine original weighing in at 4.6MB which will choke slow connections. Don't download it unless you need to. The inset shows typical 100% crops. Thursday's blog entry has a nice screen size version if that is what you would like instead and it is a more manageable size at 1024×768 pixels.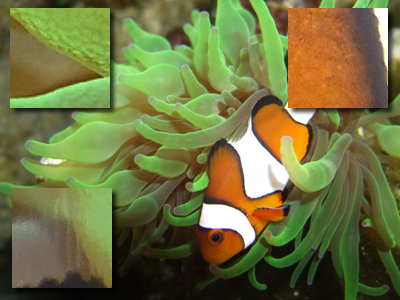 The above demonstrates how the flash brings out the color in my green bubble tipped sea anemone. Kind of cool! The flash on the E900 is one of those popup types that is otherwise tucked away. This is good as it results in better photos by getting the flash further from the line of sight of the camera. I wasn't sure if I would like it since you have to remember to pop it up. But it is fine. It does make me worried a little about durability for the simple fact that the popup involves more mechanical parts which can fail. The colors in flash photos are excellent although occasionally a little blue. The photos below were all were shot at 3MP: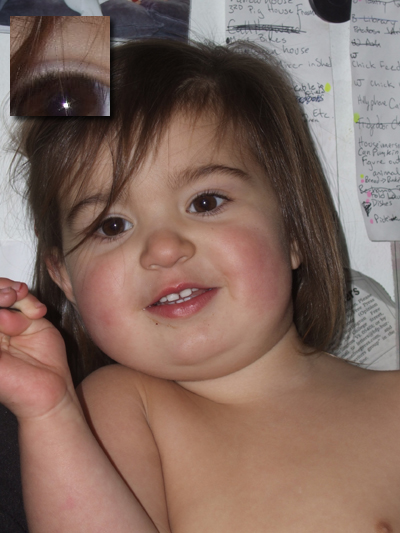 ISO 80 Flash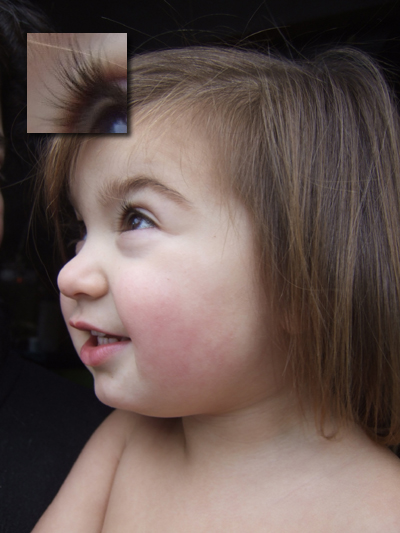 ISO 80 Natural Light
ISO 800 Flash
ISO 800 Natural Light
You can get away with using the flash less often than with other digital cameras because the ISO goes up to 800. This really works. It is even better if you're shooting in 3MP rather than the full 9MP. The high ISO does mean the images get a bit grainy compared with the lower ISO range (80, 100, 200) but it is acceptable for indoor snapshots. The high ISO setting means you can use a higher shutter speed, picked for you if you have the camera in automatic mode, so that you get less blurring of images due to camera shake or people in motion. I like it but I plan to continue my habit of shooting in low ISO ranges when possible.
The E900 has three parallel menu systems. One that you access via the central Menu button on the back for most deeper settings that one doesn't change as often. The F button give you the second set of menus which let you quickly select image resolution, ISO and color mode (standard color, chrome, black & white). The last menu is on the left of the LCD and lets you choose bracketing and multi-shot settings. I do have a few complaints on the menu setup. I wish that the white balance was also in the F button menu as I do use that fairly frequently. Manual focus also should be selectable without going through deep menus. It would be good if you could set the compression ratio for JPG files independently of the resolution. Lastly you should be able to turn RAW mode on and off in the F button – that would be the logical place for that menu option rather than buried in the main menus. A small interface detail. Other than that the E900's interface is very well laid out, very clear and easy to use even without the manual.
The E900 doubles as a half-decent video camera so you don't have to carry both for day to day type shooting of short clips. It even does 640×480 at 30 frames per second (fps). Best of all the shooting time is limited only by the size of the memory card. (This is a big part of why I went with the 1GB xD card rather than getting two 512MB cards – the fact that the 1GB card is less than two 512MB cards was another factor.) The bad news is the video suffers from too much compression – you won't be using the E900 to shoot Mira
Max films. Note that you can not zoom during video recording – you really shouldn't be zooming unless you are trying to make your audience sea sick. :) Lastly, you can not adjust the shutter speed, aperature or white balance for video. When I want that level of control it is back to my Canon ZR10 digital camcorder.
Part of my goal had been to get the smallest digital camera with the maximum zoom I could find. The E900 only has a 4x optical zoom. That is a step up from the 3x I've had before but more would have been nice. In a way, since this is a 9.0 Mega Pixel camera you can get more zoom – just crop. Not only that but it turns out that if you shoot at 3MP and then use the digital zoom lightly for another 3x giving you 9x total zoom the image quality does not suffer.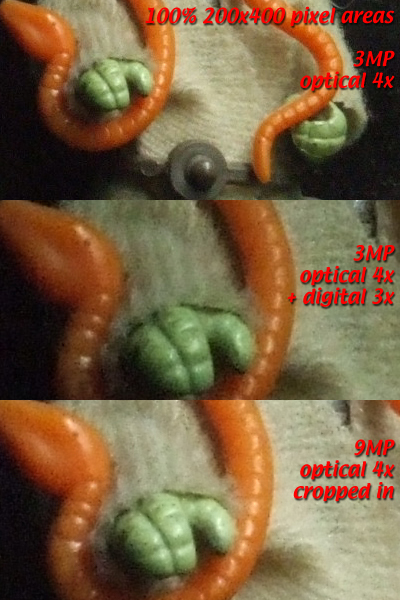 This shows a 100% 200×400 pixel crop at three different zooms. The top one is 4x optical zoom at 3MP. The middle one is using the digital zoom at 3x plus the 4x optical zoom at 3MP giving an effective 12x zoom. The bottom one uses just optical zoom of 4x at 9MP and then is cropped in the computer giving the same 12x effective zoom. Normally I totally ignore digital zoom on a camera – it is a gimmick. However the E900 has so many pixels to work with that it does a good job up to 12x (4x optical * 3x digital) if you're shooting at 3MP instead of the native 9MP. Ideally I would like digital cameras to downsize the resolution as the digital zoom increases rather than the typical chunkyness.
This photo is a real world trial of the 12x zooming at 3MP. This photo of our gander the camera was set to 3MP, ISO 80, 4x optical Zoom (28mm lens focal length = 128mm 35mm equivelant) plus about 3x digital zoom. I was standing up on the hill away from the garden where the birds are drinking. (Brace yourself or use a tripod because hand shake is a significant problem at that zoom level.) This gave me an effective 12x zoom and the quality came out okay for use in a web photo. Not something I would want to blow up as a poster but good enough for a web photo where it is going to be shrunk down or cropped. I used to always avoid digital zoom because the results were so bad and would just crop. This trick does not replace a real, quality long telephoto lens for a pro but it is better than the old digital zooms used to be.
Macro is not as good as the other cameras I have had. The Fuji E900 can do macro to about 3″ (7cm). That is barely adequate. I would like 1cm. This is a compromise I'll have to accept since the cameras that offered the excellent zoom were lacking in more important areas. Life is full of trade offs.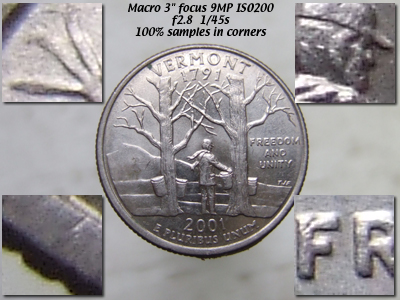 To see a similar macro shot of a quarter with the Nikon CoolPix 990 look at Steve's review from several years ago.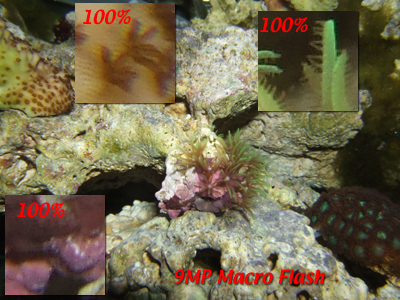 Another macro shot
Battery life is excellent. I got 299 shots over a period of about four hours hiking up Sugar Mountain with my son Will and two of our dogs looking for a lost sheep. We didn't find the sheep but I got lots of photos as we tracked it. Then it got dark. There were a about 10 flash shots in that group but most were outdoors without flash. This is significantly better than I got with the same batteries in my Nikon and my son's Casio – but the Fuji E900 uses only two AA batteries, not four as in the older cameras! Thus the E900 gets maybe 3x as many photos per battery compared with the Nikon and Casio. Since the batteries are AA's it is easy to carry an extra set or two so you could shoot a thousand pictures at a go. I use rechargeable 2300 mAHr NiMH AA's already for other things so I have a supply. Two of this type come with the camera along with a charger. It is great that Fuji supplies quality batteries rather than the usual disposable cheap junk that comes with products. One funny thing is the red low battery indicator comes on long before you run out of battery power. I shot over a hundred photos past the point when the low battery indicator appeared. When it gets to the real end the indicator flashes and then the camera shuts down.
Architectural shot showing detail, contrasts
In play back you can do the usual zooming in to examine the pictures in detail. It has a very nice feel to this process and shows a little map icon so you know where you are in the image. The E900 does some other things like cropping and rotating. I save that sort of work for in Photoshop or GraphicConverter on my computer where I have a larger, better quality screen and faster processor.
When the lens retracts a cover automatically covers the glass lens. This is good. I would also suggest having a camera bag for it. I am currently using a small soft cotton child's sock. Works in a pinch. Then I put the camera, in it's sock, inside the small zippered breast pocket of my work suit. Safe and quickly accessible.
The actual lens is slightly recessed within the lens barrel which is good as it protects it from rain and snow as well as shading it a little in bright sun.
Now we get to the all important question: How good are the photos?!? In a word, very good. Not excellent but very good. The shot of Nymocyst, my clownfish, on yesterday's blog entry is a good example of the high quality the E900 can do. So are is the panorama I did last Sunday. Hopefully the photos here and on the other blog entries will give you a good idea of how it performs.
This is not a DSLR like the Canon D70, the Rebel or EOS, but still the images the E900 takes are very good. The lens in the E900 is not quite up to the same quality as the high end Canons but it is plenty good enough. The chromatic arberation that I had seen in some early sample photos on the web is not significant in any of my photos. This leads me to believe that the photographer may have been partly to blame for those bad shots. That was very pleasing to find.
The E900's color is excellent. In the above photo Will and the dog are wearing bright hunter orange which many cameras have a hard time with. The E900 gets it right. I under exposed this a little because of the intense light from the snow so I can bring it up when I get home to the comptuer. The sharpness is also very good. Noise is minimal unless you push the ISO to the high end but it is still okay for snap shots. I shoot mostly in the 3MP mode with occasional shots in 9MP Fine. You can do RAW mode which GraphicConverter handles beautifully if you want total control. I believe the newer versions of Photoshop will handle the RAW directly, although my older one does not until I pass it through GraphicConverter.
This set of three photos were shot with my Nikon 990, the Casio and the Fuji E900. This gives you a comparison between the cam
eras. The scenes are not exactly the same, I took the 990 photo of my sons' toy setup last winter. The current setup is a little different but the whole is close enough to give a comparison with the Casio and Fuji cameras. The lighting, colors, distance, etc are all the same.
Casio QV2300UX 2MP ISO 80
Nikon CoolPix 990 3.1MP ISO 80
Fuji FinePix E900 9MP ISO 80
If you want to see more sample photos of other cameras or read reviews, check out these two sites where they have lots of sample images:
DPreview
Steve's Digicams
Pbase
fujifilm.de
If you shoot with higher ISO numbers like 800 or even 400 the image looks grainy and has noise when compared with ISO 80 or 100. This is not surprising. The imaging chip is being pushed and you pay for that. Even at ISO 80 I did notice a small amount of noise. I think both Nikon and Canon image sensors do a better job of keeping down the noise and grain but neither of them go to the high ISO of the Fuji. I shoot with the lowest ISO I can get away with to keep the image smooth. Reducing the image size from 9MP to 3MP in the computer after shooting helps and there are noise reduction filters that you can use in the computer if you need that, although they have a price in lost detail.
So far I have done a lot of shooting indoors of people, dogs and objects, a lot of photos of my reef tank's inhabitants and a lot of outdoor cloudy day pictures in the snow. We have yet to have any sunny days since I got the camera so I can't show any good sun photos. I was very pleased with how the camera handled outdoors in the extreme contrast of the snow conditions. Stopping down 1/3rd to 1 exposure level gives excellent images with great detail without the highlights blowing out or the darker areas going black or muddy. The photo below of the gander on the snow is an excellent example. These are very harsh natural lighting conditions with the blinding snow contrasting with both the mid-tones and darks of the gander.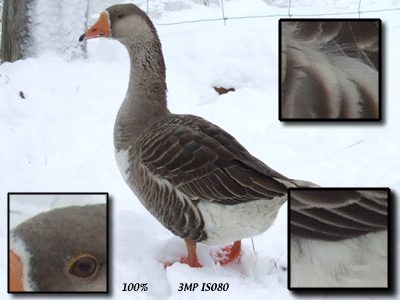 Some people complain about Fuji's RAW converter software that you run on your computer. I wouldn't know. I have not used their software nor will I likely. The USB cable comes with this strong warning to first install Fuji's software before connecting your computer to the camera. I didn't bother. I just connected and the camera works with my Macintosh PowerBook Pismo OSX 10.3.9 and my son's iMac G5 right out of the box. I bought the camera for the camera, not the software. I have GraphicConverter, Photoshop, QuickTime and other better software already. Generally the vendor supplied software with cameras is pretty poor quality. I would not ding the camera itself for that.
On a very positive note, my E900 has no dead pixels in the sensor based on checking the RAW file outputs of black images. This is great. My Nikon 990 had three dead pixels which was a bummer for night photography of the stars and Northern Lights. I was always editing those out. The LCD also does not appear to have any stuck or dead pixels.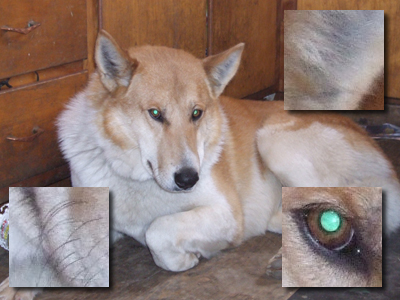 Saturn taking a break
Cons: (minor glitches, gripes and wishes)

The lens lacks a filter thread. This is a major bummer because I like using UV, polarizing and neutral grey filters, especially on bright sunny snow days when the lighting is just too intense. I realize screw on lens filters do not work with the way the way they shutter the camera but I still miss the threading. There is an extension barrel but that rather defeats the pocketability.
The optional 1.94x tele-converter is awkward and ridiculous. Give me a break, this is a camera with a built in 4x optical zoom. The tele-converter should be a minimum of 3x and ideally it should be 4x. Less than 2x is absurd.
I do wish it had more zoom built in. 6x would have been nice. 10x would have been a dream. Image stabilization would be required at that zoom which would have jacked up the price. Given the small size of the camera the long zoom isn't likely with the current technology. Perhaps the new electronically reshaping lenses that are in the labs will make this a possibility.
The dynamic range is still not as good as I would like to see. It is better than any of my previous digital cameras but it is not yet as good as low ASA film in my A-1. Someday maybe they'll have sensors as good as our eyes.
The lens quality was obviously skrimped on. It is good. Maybe even very good, but it is not excellent. There is some chromatic arberation (CA) – the infamous purple fringe (PF) – in thin lines backlit with extreme contrast like power wires or branches in a white sky.
Panoramic stitching would have been a nice bonus – this is a small detail. My Nikon did not have it. My son's Casio does have it and it works very well. I do a lot of pans which I hand stitch with Photoshop. The simpler ones I can do in Will's little Casio camera. Fun stuff. I wish the E900 had that.
Time lapsed photography is something I really wanted and saw on some of the other cameras I looked at. It lets you capture one frame every minute, ten minutes, hour, day, etc. That is a cool feature and I've always wanted it. Not this time though. Too bad.
Focus is probably the weakest point of the camera. It works but I've had a lot of other cameras that do better.
RAW, manual focus and White Balance are not in the F menu.
No EXIM data in movies.
Macro is only down to 7cm – Major bummer.
Obviously none of these problems are deal killers but there, I've got them off my chest. :)
Nice little detail, I discovered by accident that pressing and holding the green triangle Play button turns the camera on if it is off. This is handy since it does not extend the lens when it is turned on that way. It does not turn the camera off if it is on.
Pros: (Or why I am a happy camper…)

Full manual settings
9.0 Mega Pixels – not something I needed but wow! I do find I'm using that for panoramas and I really appreciate the extra resolution then. Otherwise I am tending to shoot in the 3MP mode. The 9MP does give an effective additional 3x zoom via cropping / digital zoom.
Small size and light weight.
Standard rechargeable AA batteries.
Excellent battery life ~300 shots per charge.
RAW when you want it.
Good video for a still camera.
Fast startup, shutter release and data transfer.
Excellent user interface, button position, feel.
Aperature goes wide to f2.8 – f8.0.
Shutter speed is 15s-1/2000s.
ISO 80-800 gives excellent detail in bright or dim light.
EXIM da
ta in files, not separately and no locked files.
Excellent color in natural light and flash.
Very good image quality with minimum noise at lower ISOs.
Automatic lens cover.
Good price approaching $400.
The E900 lists for $499. I saw some retailers selling it for more than that online. $413 at Page Computers was the best price I found of the actual in-stock sellers 2005-11-18. Note that some offer free shipping so add that in. Use Froogle.com to find a good price. Beware of places that claim lower prices (I saw some as low as $399) but won't have any in for weeks. Check stocking before you order and get a confirmed ship date.
I am looking at this camera from the point of view of wanting full manual control over every aspect of my photos. The E900 gives me this. I had feared I would have to get a big camera to get the full manual this time around. Not everybody wants all that control. Fortunately the E900 has automatic settings for someone who just points, shoots and leaves. The E900 is so easy to use that even my wife Holly can confidently take excellent snapshots. This is important because I'm not the only one who will use this camera. If you're intimidated by the manual controls it could still be an excellent camera – you can use the automatic settings and then perhaps someday play with the manual settings if you want to do more. Digital cameras are perfect for that because, after all, unlike film the electrons are fully recyclable!
Manual control raises one of my fundamental frustrations in finding a new camera. All too many of them were over automated. A few even claimed to have manual controls but when you looked closely it turned out they just offered exposure compensation which is not the same. It is frankly dumb of the camera designers to take away the manual controls and cripple the camera. They are making a big mistake. It is all software. There is no added cost of manufacturing to giving the user full manual control if they want it and then gracefully ramping up to automatic for users who need that. By not offering the manual controls the vendors are limiting the marketing appeal of their products. The small cameras are not going to replace a DSLR with interchangeable lenses for pros and advanced hobbyists. Giving full manual controls and building a better camera in the process will not cannibalize sales of the high-end cameras. I dinged several Canon and Nikon cameras from my potential buy list because they lacked manual controls. The E900 has full manual controls and full automatic. It works for everyone.
While it isn't a Canon Rebel DSLR but the The FujiFilm FinePix E900 is a heck of a lot less expensive, smaller and lighter which means I'll keep it with me rather than wishing I had it when I see that great shot out in the field or woods. It is not a replacement for a professional camera but the FujiFilm FinePiex E900 is one even a pro should consider for a pocket camera to have with them all the time.
Do NOT buy this camera. See this update.
Update 2008-02-03: Fuji E900 died twice, once under warrantee and once out of warrantee. Both times from dust in lense open/close gears. Fuji would not replace it either time even when in warrantee. A great many other people have reported this problem and Fuji did replace some of their cameras if the camera was under warrantee. Fugji's repair manager told me that the cameras are considered throw-away's and not expected to last.
This is a fundimental design flaw, common to many brands of cameras that use lens barrels that extend outward and then retract back into the camera. That sucks dusty air in through the cracks when the lense barrel opens, the dust settles and then when it closes the dust stays inside in the gears. Eventually this causes failure the gears to break or lock so the lense elements can nolonger move and the barrel freezes in place with a "ZOOM ERROR".
I strongly recommend buying cameras with weather seals and possibly even waterproof for every day use. These are becoming more and more common and should hopefully be more durable lasting for longer. Since my replacement E900 is now dying I'm looking into a replacement. Suggestions appreciated. When I get one, I'll post.
By the way, several people have noted that the warrantee replacement E900 cameras they got got worse battery life. That is definitely the case with mine as well. At first I thought it was just my batteries getting older but careful testing showed that it is indeed the second Fuji camera sucking more power and draining the batteries faster.
36°F/23°F, Overcast, light light snow 1.5″
Tags: camera fuji e900 digital
Also see: E900 Part I