This is a posting I have hesitated to make. It delayed me from making a post yesterday. I have hesitated because I fear that fanatical anti-farming groups like People Eating Tasty Animals, they who shall not be named or something like that, will try and take this posting and abuse my words for their own ends. Undoubtedly I will also ruffle some feathers and spill some soup. This is not a posting to read over dinner.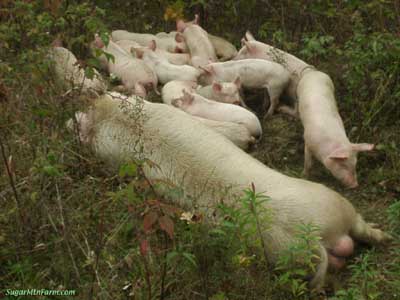 Down in the lower right of that photo is the east end of a westward boar. He is missing nothing. Adult boars put even the most evangelitical sex spammer to shame. Traditionally in our culture male pigs, which are called boars if they have the balls, are castrated at a young age, that is to say cut, de-nutted, neutered, fixed*, relieved of the family jewels, etc. In a nutshell, they get their balls cut off. This turns the boar into a barrow in two fell swoops of the knife.
The reason for this process is that when boars come of age and start noticing pretty girl pigs as more than play mates, they release hormones that in some cases, can eventually flavor their pork with a rank 'boar taint' that people find objectionable. It is also argued by some that cutting the boars will make them more docile and safer to work with. This done for bulls, rams and roosters for the same reasons. No balls, no hormones.
Let's start by examining the aggression issue. First of all, market pigs are slaughtered before they get far into puberty. Aggression is not an issue for them. Secondly, consider those who do get to puberty: they are to become real boars for breeding who thus must keep their family jewels intact. For these fellows, if you properly, gently handle them when you are raising them they are calm and gentle animals in almost all cases. I say almost because somewhere out there is an aggressive animal to argue the point. We have never had a bad boar. We borrowed several boars which we did not raise and they were all gentlemen. Those that we have raised were even more so. Any that are not gentle should be culled – You do not want to breed aggression into your livestock. We have a firm policy that the mean make meals and right quick. How you raise and handle the animal is the largest determinant in how it will behave.
Getting back to the taste of the matter… How bad is boar taint? Some people swear it is the worst thing they've ever smelled, that "it makes the whole house uninhabitable forever if you cook boar meat in the kitchen." I suspect that is a bit of an exaggeration even in the worst of cases. Some people say the same thing for roosters, rams and other livestock. I differ.
My own personal experience with young boars and rams, under nine months old, is that there is no boar taint even if you keep them in with the females. I have yet to eat a male older than that so I can't personally comment beyond that point. Archie, a farmer I know a bit north of us, says that even with a big boar if you just set it apart from the females for a month then the meat tastes fine – he's eaten three year old boars weighing in at as much as 1,062 pounds(!) and I'm inclined to believe him given that he's raised pigs for over 30 years. When Archie speaks, I listen – he knows what he's talking about.
We eat roosters, up to age two or three, all the time and they are delectable. There is no taint nor are they tough. Mean ones get eaten earlier so that is never a problem. They do tend to have less fat than younger birds and hens but the meat is still tender. Since they have so little fat in their lean meat, I marinade them for 48 hours to make them juicier, which is wise with any meat to pass the rigor mortis phase – with larger livestock you hang and chill the meat often for weeks – same thing.
There was a very interesting Brazilian study done on this topic. The report, published in December of 2000 at Conferência Virtual Internacional sobre Qualidade de Carne Suína by Jerônimo Antônio Fávero concluded that boar taint was avoidable without castration. The purpose of this study was to enact new standards in Brazil for the slaughter of "Entire Male Pigs" that is to say boars. You can checkout the original research paper in English if you like (the article is unfortunately gone from that link but I have a copy if needed) but here is a very short summary for those not interested in reading the whole thing:
"The maximum weight of the dressed carcass will be 73 kg without the head (equivalent to approximately 100 kg live weight), with a maximum age of 160 days. Up to these weight and age limits, all carcasses do not need to be submitted to any kind of test for boar taint."
For the metrically challenged of us here in the USA, 100kg equals 220 lbs, which is a typical market weight pig. The point being that up to a certain age none of the male pigs show boar taint. They also identified the exact cause of boar taint as being "due to the presence of high levels of androsterone and skatol."
If you're interested in reading more on the chemistry, check out this Penn State research article "Pigs in Paradise" by David Pacchioli and this European article. It suggests that it may even be possible to breed pigs that have low levels of the problematic chemicals and indeed other research suggests that some pigs are more likely to show boar taint than others. Perhaps there are even differences between breeds. Interestingly, boar taint can also happen in female pigs on occassion. These articles also mentions some alternatives to castration to prevent boar taint such as feeding chicory root at a rate of 25% of feed intake – results are apparent in three days. Some of these articles mention possible vaccination against hormonal development but that has it's own problems as they discuss.
There are significant costs to cutting for the person raising the pigs and for the consumer. Often the producer is the consumer out in rural areas so the cost does not get passed on but absorbed. Several studies show, and my experience bears this out, that barrows grow about 10% slower than boars on average and they are fattier than boars. Note that the focus is on growing meat, not bone or fat. Likewise down the scale are gilts, young female pigs, who grow again about 10% slower than barrows making them even slower growing than boars. This is not to say you won't have the occasional barrow or gilt who outgrows a boar, but on average over many animals it has found to be the case that the intact males win the race to market.
This results in more time and more feed being needed bring the barrow up to market weight than if he hadn't been cut. If you're feeding the pig commercial grains then that matters since every day it eats it costs you money. It also means that instead of taking 160 days to grow to market weight the pig will take 176 days for example. The time doesn't usually matter to most of us small farmers and back yard home pig raisers but the added grain cost does mount up. An extra 16 days at 4 lbs/day is 64 lbs or about $10 in feed required for the barrows to catch up with the boars. On commercial operation
s where they only profit $4 per hundred weight that could be the difference between profit and loss.
Just to confuse the matter I have read one study in Australia that said there is no significant difference in growth. I don't know what the exact reason for that is but it mixes the equation just a little. However this study does point out that the feed intake is still higher for the barrows resulting in a higher piglet to market cost and the meat is fattier as well reducing the actual meat yield.
The cutting also costs the pig – the barrows go through a bit of a traumatic experience having their balls cut off and there is the risk of infection like with any surgery. We use clean instruments and iodine so we have never had a problem with that but it is a risk. Unfortunately you can't use an elasti-bander or other tourniquet method like you can with sheep or cows since the boar's testicles don't hang down from his body like a man's do. Instead, cutting is required and the term is very descriptive. Think about that image a moment… Worse yet is caponizing which is done to roosters to make them capons. Caponizing requires abdominal surgery which is more akin to spaying than neutering.
Lastly, cutting costs the pig breeder. It is a very labor intensive and an unpleasant task. I'll tell you right off, the farmer does not enjoy the process. The pigs don't enjoy it. They are scared, may bite, thrash and get an unpleasant association with the person doing the process. The person doing the holding or cutting can get cut as well, although hopefully not in that place. All around it is not a fun time for anyone involved.
This whole process is very cultural. In some countries they do not castrate their pigs, sheep, bulls or roosters. On the flip side, markets in other countries like Singapore and Germany absolutely insist on castration. In some countries it is even required by law. Other countries have banned it like Norway.
So why do we still do it? Because customers demand it. People are afraid of boar taint in the meat. They're worried that the boars will be overly aggressive. I understand their fear. They're buying piglets and want to maximize their chances of success. No balls = no taint. The equation is simple. I hope that education may change tradition.
If you raise boars away from females and slaughter them at a young age then they don't start releasing large amounts of the tainting chemicals into their blood stream. They'll grow faster than barrows would saving you money on feed as well as labor. The boars will also be more efficient at putting on muscle so they will have healthier, leaner meat. If you treat them well they should not be aggressive, the last reason given for castrating. The pig benefits – it gets a less stressful life. You benefit – you pay less for feed and get a quicker growing animal that hasn't been stressed as much. It's a win-win.
That was probably more than you wanted to know about the annual pig ball. I bring this topic up because I view the castration process as unnecessary and hope that people might start moving away from it to a more humane management of the pigs they raise. This would benefit the pig, the farmer and the consumer.
Also see the article: "Boar Meat"
Update 20150420: We have now been raising intact, that is to say not castrating boars for a decade and sold the meat from thousands of boars to our weekly customers feeding tens of thousands of customers hundreds of thousands of boar meat, repeat customers who keep coming back for more but through our CSAs, piglet sales, roaster sales, direct sales of whole pigs and through local stores and restaurants who buy from Sugar Mountain Farm every week. The market place has proven that boar taint can be controlled without the need for castration. Boar taint is real, the research shows that there is a minority subset of boars who have taint, but with good genetics, diet and management it can be prevented. For more information about boar taint see this page.
*How is that we're fixing something that is not broken?
Thursday: Low 27°F, High 45°F, 2″ Rain, Sunny, Overcast
Friday: Low 27°F, High 34°F, 1.5″ Snow, Overcast, Patches of Sun