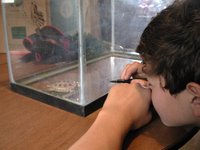 What Will is doing here is an exercise in seeing and drawing. This is part of his art class. The turtle model inside the glass fish tank is his subject which he is drawing from each of the views through the glass walls of the tank. To simplify the learning process he is drawing directly on the glass with a felt tip pen. Later he redrew the drawing onto paper and colorized it. The goal is to learn to draw what you actually see and get perspective in the process. If you click on the photo you can get a larger view.
I think I have come to a decision on what digital camera to buy. I've concluded I should go with something that will hold me over for a few years when I expect vastly better cameras to be available based on some great stuff that is just leaving the labs. To this end I'm going to get a pocket camera, something that I can easily carry with me when working in the fields and woods. All to often I've seen things I wish I could photograph but my huge Canon A-1 and then my Nikon CoolPix 990, which recently died, were just to big to be lugging around all the time. So the picture didn't get taken.
This past month I've been carrying around my son's little Casio digital camera since mine was dead. I really love having it in my pocket and right there for those impromptu shots. I just wish the lens was better, the manual focus worked, the resolution was higher, the manual controls were vastly better, etc. But it has been an interesting perspective. So, a small camera is what I'll be getting. Finding one with full manual control, a must for me, has been a trick, especially since I also want it to use my rechargeable NiMH AA batteries and not something esoteric and hard to find.
At this point it is looking like I'll go with the FujiFilm FinePix E900 which has just been released. The specs look good as does an initial review I read online at Photoxels and Epinions. Sample photos I found online look good although not quite as sharp as the A620. Still, they are as good as my old 990. I have not yet gotten to touch it though. It is a fourth iteration in it's product line, always a plus, so the manufacturer has had time to work out bugs from the earlier models.
I had thought I would be going with either Canon or Nikon, my old standards, but neither of them make anything that impresses me at this time in this form factor. Either it is too big or it lacks critical features like manual controls, manual focus, white balance control, etc. The Canon A620 was tempting but too big and lacking in some ways as well as feeling clunky in my hands. Nice sharp lense though. The Nikon CoolPix S4 looks great but it has no manual control what so ever. Worse yet, I got to touch an S4 and absolutely hated the joystick control on the back – it is too small and far too easy to miss-click.
I would love to hear from anyone who has the E900 or has played with it…
"To err is human. Computer will take that mistake and repeat it endlessly and mindlessly…"
Low 29째F, High 44째F, Overcast, Rain towards evening.
Tags: art drawing homeschool camera