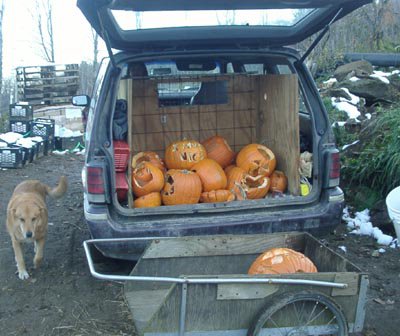 Each year we rescue pumpkins after their being used as jack-o-lanterns for Halloween. Bill and Donna of the Waites River General Store hold an annual pumpkin lightning contest each year. Everyone is invited to enter and there are prizes for the best carvings in various age groups. People bring in their carved masterpieces which sit in the field on the hill opposite the store for several nights coming up to the big All Saints Night.
After the pumpkin lightning is done many people don't come to retrieve their creations. Several years ago we offered to clear the field for them and haul the pumpkins home to our sheep and pigs. They love the variety in their diet that the pumpkins offer and pumpkin is even supposed to be a good natural wormer. We call this our "Pumpkins to Pork Project". :)

Here you can see the kids throwing jack-o-lanterns over the fence down to the pigs and sheep. Good healthy pumpkin smashing fun in the fall…
By the way, both Ben and Will won for their great pumpkin carvings this year – A free large pizza each!
"The way to not makes mistakes is to do nothing."
Low 32째F, High 55째F, Sunny