The big day is here! Much anticipated it has been! We make costumes each year of paper maché, cloth, wire and foam. The kids plan and scheme for months, doing drawings, planning how moving parts will work, how clothing is to be sewn. Then the first of October it becomes an obsession with hours spent on these interdisciplinary projects, getting ready for the big night… The costumes are done with the help of everyone, sharing ideas and skills, all of us spending some time on it. But the big push is each child's as they design, shape and paint.

After we visited our neighbors down the street we headed into Barre town, our closest city (pop. 9,000 – motto "Granite Capital of the World"). They have a special Halloween event sponsored by the town merchants. The stores close early on Halloween and the owners and employees dress themselves up for the event. Families parade down the sidewalks visiting each merchant who gives out candy. The event lasts about an hour which is enough time to walk the mile and a half loop through town.

This year Ben was a wolf. Holly helped him create a shirt with a wolf like cape and mane which he wore over dark pants and a black long sleeve shirt. Ben made black gloves for his hands and furry paws with claws. For his mask he and I started with a milk jug and added triple expanding foam which we shaped into a large wolf head with big perky ears. After the foam was hard we added another layer which we pressed down to smooth it out some.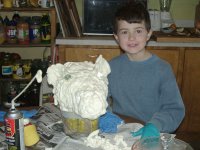 Then Ben painted the mask grey with brown, black and white highlights. Tonight we put black paint on his face to make him vanish in the shadow below the mask which sat above his head. Since he is still small people tended to look into the glass marble eyes of the wolf rather than into his own face. Everyone recognized what he was and he had a lot of fun growling and prowling the town with his pack. Kia dog came along which added to the effect.

Will is thirteen now and has put on a bit of height. In fact he was over nine feet tall for Halloween – and had two heads! He built a two headed ogre costume using a plastic barrel, PVC pipes and foam. He clothed his giant in burlap bags and made pants out of burlap as well.
The result was a huge monster like those of the Bread & Puppet Circus with arms that swung naturally and could be controlled plus heads that bobbed and peered around him as he walked down the street. This garnered a tremendous number of comments – "Oh, my god!" "Look at that!" "Wow!!!" It made his day – and month.
Hope went as Winnie the Pooh in a suite Holly had sewn from scraps of fabric years ago for Ben. She dressed her Baby Doll as Piglet. Cute and cuter! She is only two and a few months so this was the first time she understood Halloween. And did she ever enjoy it. All the costumes and getting dressed up!
Also see:
Halloween 2015
Halloween 2014
Halloween 2013
Halloween 2012
Halloween 2011
Halloween 2010
Halloween 2009
Halloween 2008
Halloween 2007
Halloween 2006
Halloween 2005
Low 29°F, high 54°F, Sunny.