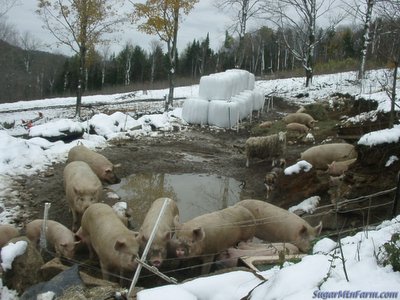 John and his son Jonathan brought us two loads of hay today. They also brought a tractor with the special round bale grabber for unloading the bales. That was a bonus I hadn't expected and greatly appreciated. The grabber lets them unload the bales without damaging the wrappers. They even delivered the bales up the hill to the terrace where the pigs will be this winter saving me a lot of time! Now the hay is stacked and behind a protective electric fence so the sheep and pigs don't get too inquisitive and rip it open. Last year terrace used to be a steep hillside. Next year it will be growing space after the pigs have wintered over on it. Moving mountains.
I gave the pigs and sheep one bale immediately, the bale we opened to test, and they all dug right in. It is excellent hay. With the snow cover the pickings are getting slim in the field so the livestock were glad to see the fresh hay. It was good to see them all munching away. After they've finished this bale it will be back out to the field as I would rather not open any more bales until winter is really here and the fields are no longer useable.
Last year we tried wrapped round bales for the first time and they worked well. Before that we had always used square bales which are good because I can hand lug them. The round bales, which are about 800 lbs, were a bit intimidating. They are significantly less expensive per pound than the square bales and the hay quality looks better. Having the wrapped bales is great as we have no barn or shed for these large bales. We could tarp unwrapped bales but we get a lot of high winds and I have bad experiences with tarps being ripped to shreds, even when tied tightly and cross lashed. The other problem with tarps is that they get covered with deep snow and become unmovable. The wrapped bales solve that. Now I just have to figure out some good use for the used wraps… Ideas?
This is our local fire hydrant. As you may note, it has a bit less snow than we do. The fire hydrant is down the road at the fire pond in the pasture by the Post Office. The fire hydrant has an amazing view looking down the Waites River Valley. I was down there to mail a package to a customer in Australia – way over to the other side of the world. For them, spring breaking into summer while we have oncoming winter. It is amazing that we can drop something off with our postmaster here and it will travel all the way to someone half way 'round the world. I have corals in my tank from there but I doubt I'll ever be personally visiting those lovely reefs.
Question reality – it might just be a misperception."
Low 29째F, High 33째F, Overcast, dusting of snow overnight