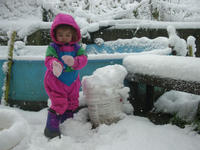 We got about 6″ of snow early Tuesday morning and then another two by noon. Wednesday night we got an additional inch or so. It is a very white, white world out there. As always I'm not quite ready for winter. Projects to do. But the trees are weighed down with the birches bending to the almost to the ground and winter waits no more. The soil is not yet frozen below the snow so we'll see if this lasts or not. If the snow does not melt so the ground can freeze up hard it will make winter logging more difficult. We need the ground to freeze up solid to support the logs and equipment so they don't damage the tree roots.
The electrical power has been out since 5:20 pm Tuesday. It just came back on at 6:30 am Thursday morning. I wonder how much the power company spends on this sort of problem? No clue on their web site. It seems to me that it would be better to have all the power lines underground where they would not be susceptible to bad drivers, lightning, storm damage, snow weight and falling trees – the main causes of outages around here. The telephone company in Topsham has put most of their lines underground and is continuing to do so. Makes a lot of sense. I have my own solution that I'm working on.
The town did plow, although I don't think that was a good idea given how muddy the soil is underneath the snow. They just dug up great globs of dirt. The half foot of snow or so is easy to drive over making plowing all the more questionable. They also graded the road in the rain on Monday. A strange thing to do with it so soggy. My guess is our road was on the schedule and they followed the schedule to the letter rather than adjusting for conditions. The result is they took a road that was hard and in good condition and turned it into a sloppy muddy mess full of ruts. They should spend their time more on ditches and culverts and certainly not grade the road in the rain. Grading is dry weather work. Normally I think they do an excellent job but this one has me puzzled.
Fortunately I do not drive much so it isn't a big issue for me personally. I suppose if anything perhaps it will slow down the traffic and maybe convince some rushing people that this is not a short cut – it isn't. In fact I suspect that our road is very damaging to the cars of people who use it as a short cut at 50 to 70 mph. This is one of those cost benefit ratios that people get backwards. Last week I found another bumper. The hyped up drivers need to learn the trees do not move out of the way. Same for the rocks and ditches. Last year I found a bumper wrapped around the trunk eight feet up in a tree. Apparently four kids had taken one of their dad's new car out for a test drive. It appears they did not account for the steepness of the peak of the hill. I think their suspension unloaded at the top and they never regained control – until the tree caught them. Amazingly they lived. The car did not survive based on the number of pieces I found.
Drive carefully.
Tuesday: Low 31°F, High 32°F, Overcast, Snow 8″
Wednesday: Low 31°F, High 33°F, Overcast, Snow 1.5″
Thursday: Low 32°F, 34°F, Overcast