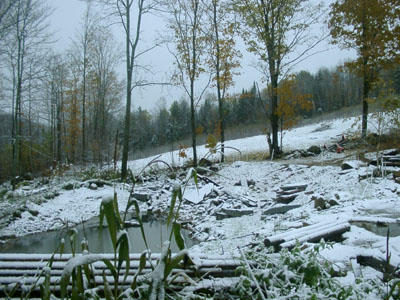 This morning we woke to a white world. Last night's light rain had turn turned to snow. In three quick days we said good-bye to summer, hello to fall's first frost, good-bye to fall and hello winter! It was a short fall. Well, not really but it felt that way! The pumpkin patch that was so green on Thursday is now blanketed in white snow.
Today was another good-bye: Pepé puppy left our farmstead and went to a new home. Good-byes to the puppies are always hard. I have a strong tendency to get attached to them. I know they can't always stay with us. If they did I wouldn't have enough time and attention to spend with the ones who do stay and join our livestock guardian pack. Knowing that only lessen the sadness of saying "Good-bye" a little.
Kia, Pepé's mother, came down to the house later in the afternoon and hopped up to me asking questions. I finally figured out she was looking for Pepé. I explained that he had gone away in the car with Christine and Barry. Kia had met the new family and seen him leave. I think she missed him too. She then went out and looked down the driveway where the car had driven away before heading up the hill with me to the remaining two puppies Kira and Kavi.
The thing that helps lessen the pain of parting is knowing they are going to good homes where they will be loved and meeting their new families. In Pepé's instance he is going to the daughter and son-in-law of Joan who already has one of our dogs, Kahlil. Joan brought Kahlil up with her so I got to see him again. He has grown and is looking great, a very happy dog. It was great to see both her and Kahlil again. I think he remembered me and the other dogs. This is the fun part – each time a dog goes off into the world we make a new connection. Often we hear back about the dogs, get to see photos as they grow and hear fun tales of their adventures.
I won't forget Pepé but sometimes good-byes lead to hellos.
Low 29°F, High 44°F, Overcast, Snow 1″ in morning