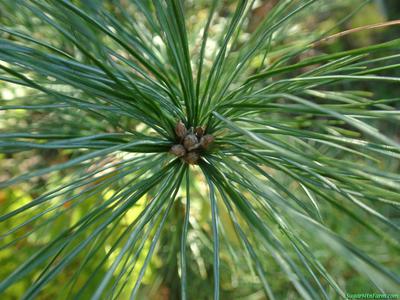 The most common question I get here is:
"What dosage of garlic or pepper to use?"
I don't have an exact dosage. Start small with a sprinkling on their food to get them used to the smell and taste. Increase the amount. I think what we use comes out to be about 1 oz of powder per 500 lbs of animal per day for about a week. We do a week on and then several weeks to a month or more off. That is very much a guess. In the pigs I'm doing a herd on pasture, many animals, many sizes, and then averaging it out. Realize of course that we're dealing with consumer grade garlic and cayenne pepper which may have varying potency as opposed to medical grade chemicals where this sort of thing is easier to nail down.

The reason for gradually increasing the garlic level is to avoid having the animals reject the feed. It is to the animal's taste, not to your taste. If you find they're rejecting then mix in more food to cut the garlic flavor so they'll eat it and then continue ramping up to the 1oz per 500lbs of animal a day and hold for a week. That is the does I found cleared out worms in dogs, cats, sheep, pigs and it probably works on humans too.
This is a close up of a white pine growth tip I took this fall in the north field. We have a smattering of evergreens scattered through the brush in the fields we're recovering as well as along the edges. The sheep in particular but also the pigs enjoy munching these down. They eat the needles, the growth tips and strip the softer bark. Interestingly they are not as fond of the blue spruce although they will eat them if hungry enough.
Apparently the conifers have deworming properties. This is a topic I have been researching for several years now. I read about this in several articles and noted that our animals do find the boughs palatable. Our first test was to give them pine in their winter corrals. Observing their poops suggested that yes indeed it did appear to work.
One of the important things in deworming is to vary the chemical so as to not evolve your population of worms to be able to tolerate it. With further reading I was able to compile a long list of common natural substances that may have deworming properties. We have been working our way through the list of readily available ones, trying each in turn. I skipped the turpentine but we have tried wood ash (sugar maple), garlic and cayenne pepper.
Our subject animals have included pigs, sheep, dogs, ducks, chickens, guineas and cats. Some had obvious signs of worms in their stools prior to the start of each trial. Others didn't. In no cases were the sample sizes large enough to be considered significant – even our chicken flock is only around a hundred.
In the fall we feed a lot of pumpkins to the pigs and sheep – the seeds are supposed to be a dewormer. I did not notice much effect but it may be they are not getting a high enough dose of the seeds.
The animals love to eat the charcoal from our bonfires in the field so that gave a ready testing ground. Again the results were pro but not strong enough that I would pick the wood ash. However I think they might be getting minerals from it.
Diatomaceous Earth (DE – food grade) certainly works for keeping down the fly population, although chickens work better. For internal application I am not as convinced. More study is needed on it.
The garlic tests were astounding. First it is completely palatable to the animals – an important consideration. They just eat it right up with their feed (cottage cheese, milk or bread). We have not done enough tests to find what the dosage should be but a pound of dry garlic powder is enough for a month to keep a heard of pigs (52 at the time), pack of large guardian dogs, cats and sheep (6) all worm free after killing all the obvious worms that were present before the tests.
Cayenne pepper powder is almost as good as garlic but the animals do not like it nearly as much. Again we mixed it with cottage cheese, milk and bread. The younger piglets rejected it. The chickens accepted it. The larger animals including the adult pigs, sheep and dogs will eat it more readily but don't care for it. Its effectiveness appears to be close to that of garlic but I'll be doing more tests. It makes a good alternative.
The results have been excellent. Animals that clearly had worms in their stool samples prior to the trials were clear of worms after the trials with the garlic or cayenne pepper – less so with some of the other things. Furthermore the natural dewormers, especially the garlic, seem to act very quickly. One of the big pluses of the natural wormers is they seem benign to the soil life – the commercial dewormers tend to kill off microbial soil fauna, earth worms and even dung beetles.
Shooting Pigs: For injecting pigs I like to use a repeat injector like this or this. A bit of overkill for just one or two pigs but it works slick. Oral dewormers work well and are easy to give in a hot dog bun or inside a cream donut… Pigs will do almost anything for a donut.
Good grazing management also goes a long ways towards keeping the parasite population down but that is another topic. Our winters also are harsh on worms and other parasites because they break up the life cycle.
This has been a great homeschooling experiment and the subject of many discussions. I think it may contribute to the fact that our kids are quite willing to wash their hands. This may be a somewhat disgusting topic that you wish you had not read over breakfast but it is fascinating and good to know that there may be alternatives to the toxic commercial dewormers. Of course, natural substances also have toxic levels too so do your research.
One of the ways that I tell if I need to consider deworming an animal is if I see rough coat, bloat, loss of muscle or ill thrift. Then I check the gums and eyes for paleness which can be a sign of anemia induced by parasites bleeding the animal internally. This is a quick and easy first step in evaluating the animals and part of developing a keen eye.
Note that if you are starting with a strong worm problem then it may be advised to knock it down with something like Ivermec or Fenbendazole and then maintain your defenses against parasites with good managed grazing techniques, feeding garlic and other gentler practices. A veterinarian once told me the new method of better deworming is three days of Fenbendazole (Safeguard uses this) and then a shot of Ivermec which activates the worms and makes them susceptible to the second dose of chemicals. With an incoming new group of animals this is particularly well advised so you get a fresh start during quarantine down-hill, down-water, down-wind, down-chores.
My only major objection to Ivermec and Fenbendazole is they create toxic pig poops that then kill off the beneficial insects, worms and such that we need in our soils. For this simple reason I work to minimize their use. They are good tools to definitely be used with incoming pigs that should go through quarantine. Have a dedicated place and it minimizes the ecological impact.
Also see: Valentine Vampire Drink
Night: 48°F, Day: 54°F, Overcast, light rain in afternoon.