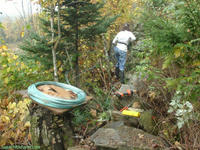 Today we pulled more fence and cleared another long section of brush from the stone wall in preparation for more fence pulling tomorrow. We had pulled single wires with our spinning jenny before but this was our first time to use it for unreeling dual sets of wire at once. I think I could do four wires at a time which saves a lot of work. We made the jenny from rebar and plywood. It is considerably cheaper than the commercial spinning jennies I had considered buying and works wonderfully. I already have several improvements for the next version I'll make this winter. Life is like that, a constant revision and evolution. Oh, how much cheaper? Well, about five dollars all told – Even less if you use stuff that was lying around as I did. That is pretty competitive and it was easy to build. In a nutshell it is a turn table with variable pegs to hold the wires.
So why the title, "Spinning Mummy"? Well, back before we made the spinning jenny, my wife Holly would hold the spool of wire around her waist while I drew it out. She would spin to keep the wire from looking and kinking… Thus she was, as our kids said, a "Spinning Mummy"!
It was misty right up until the mid-afternoon. The cloud cover let us work much later rather than taking a break from the sun at 11 am as we usually do. Will cut brush all the way down the end wall of the south field and tomorrow we'll pull wire there. Feed is starting to get scarce in the fields as the growth slows down. The animals have eaten up all the brush in the other sections so it will be good to open up the last bit, maybe tomorrow afternoon.

After finishing up for the day we went down the mountain to see the Barrel Man, Charlie Hall. On the way we saw a large flock of wild turkey in a neighbor's fields. I wasn't able to get close enough to get a good picture but I did get this shot of the mist and foliage looking south down the Waites River Valley. I always enjoy that view, especially this time of year.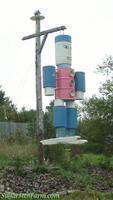 This is the Barrel Man's sign. Quite something! He loves to make things with barrels, photovoltaic, solar heating, etc. He has a large windmill that pumps his water. Amazingly it has never been hit by lightning in the over 20 years it has been up. We were getting some plastic barrels. One of them is for Will who is making a huge ogre for his Halloween costume this year.