This is what the fall foliage was like on Thursday afternoon looking west and north to Sugar Mountain and beyond. We are starting to get some really nice colors. Click on the photo to see a much large version of the panorama. Down at the bottom I have labeled some of the scenic features. If you were thinking of coming up this way for seeing the foliage this weekend but stayed home don't feel bad as it has rained for the past three days making the weather not very conducive to leaf peeping. In the last 36 hours we've gotten over 5″ of rain which is a lot for us. We were glad to get it! All the ponds are overflowing and we finally got to see what Mystery Pond under the trolley line looks like full. Monday is supposed to have scattered sunshine so it may be nice fall foliage viewing weather.
Another sure sign of fall: this morning while we worked cutting brush above the trolley area we saw a large flock of geese arrowing southward overhead. Thursday we had seen a smaller group over the south field. I always think we'll get some making overnight stays in the marshes that run down the center of the valley but to date I don't think that has happened. The ones passing over are all quite high. Todays was actually remarkably low, maybe 2,000′ – so about 400′ above us – but angled such that they hadn't taken off around here. They certainly are big birds!
Some of the maples are an ultra deep red this year as seen from our fencing 'walk' on Thursday. I captured this one while it was still wet Thursday morning.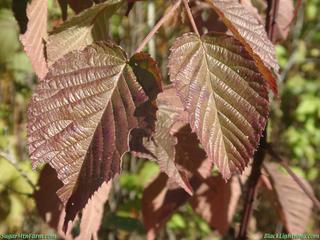 These are blackberry leaves which has turned to the dark side. We had the most incredible wild berry season this summer – sweet, plump, big and juicy. Huge red raspberries as large as the end of my thumb, wonderful black raspberries of normal size, excellent large blackberries, big alpine strawberries and an enormous harvest of low bush blueberries. The mint and rosehips were also very prolific. It was dry and I had feared we would not get much in the way of wild harvests. I think that perhaps we got enough rain early on and then the summer was much warmer than normal which made for good growth. We had three record high heat days of 86째F. That is the highest I have recorded in the past decade and a half. Perhaps this is a benefit of global warming… Guess I should be sending thanks to anyone driving SUVs! :)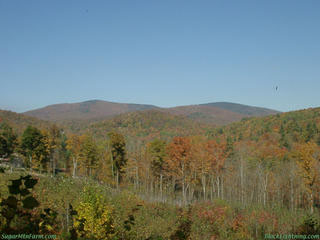 This is a view back toward the house (far left) of Knox Mountain and Butterfield Mountain across the far corner of the south field where we pulled wire to on Thursday. To the right is Signal Mountain. As you might notice this end of the field is pretty brushy. Once we get the perimeter fencing completed we will subdivide it for intensive grazing so that next year the animals will be able to clear out paddocks. The upper part of the south field looked like this two years ago and is now almost lawn like. I only use "Real Bush Hogs" powered by forage and cheese! :) Saves on gas and much quieter than the tractor! It also saves me driving up and down our steep hills… not my favorite task!
Ah, and who is this… On the way back we met this pretty lady. Peering at me through the brush with her lovely yellow eyes is Kita. She must have heard me down at the far end of the field and come to check what was happening while Saturn stayed up with the pigs and sheep. She's the strong silent type, unless she's being the strong loud type… :)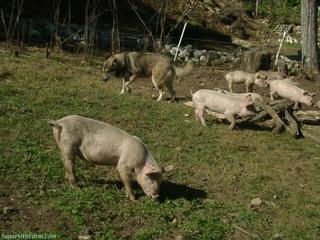 And what day would be complete without a gamble in the field with piglets! They are getting quite tame and often come to see if I might have treats when they see me out in the pasture. They go through a phase where they are quite skitterish but then get friendly again. Here Kita is mixing with some from the latest farrowings. We kept back 28 piglets, mostly gilts, this fall for raising to market size. The very best gilts (young females) will continue on here at our farmstead. This will give us new sows to expand our herd of sows to better meet demand for piglets in the future. The very best boars won't be cut and marketed – instead they will get traded for another boar for us. Through this selective process we can keep improving our herd genetics – a long term project.