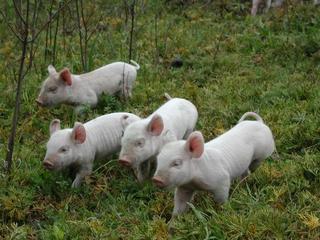 Sometimes piglets are just too cute! These little ones are just getting to the stage where they are exploring away from the sow and romping out on the pasture. They are only about ten pounds in this picture so it this stage it is hard to remember that in just six months they'll be well over 200 lbs.
Almost every month I get calls from people looking for pigs for pets. I try to discourage this or at least suggest they consider getting a Potbellied pig instead of a Yorkshire. Yes, our pigs can make a fine pet, just as a horse can. Like a horse, farm pigs get very big – they have been bred for fast growth and size. They can get over 1,000 pounds in just three years in the case of boars and over 500 pounds in the same time for a sow. That makes for one mighty big pet. They need a lot of space – keeping them in a stall or small pen isn't fair to the pig and is likely to make them frustrated and more aggressive. Pigs, like most animals, can bite. They have big teeth including fangs (tusks in their case). Pigs are heavy and have sharp feet. They can even accidentally bump you up against a fence post and crush you.
So, when people ask if they can buy a pet pig I first try to encourage them to consider a potbelly pig which does not get nearly as big. If they must get a pig, I explain the above and recommend they have plenty of space, at least an acre for the pig.
Oh, and did I mention that a pig have a big, pig sized appetite? An adult pig can easily eat 10 to 12 lbs of grain a day. That's about 4,000 lbs of grain a year which will cost roughly $700 a year for a pet pig food bill in 2005 prices.