We got about an inch and a half of rain last night which was sorely needed. In addition to helping the gardens and fields it also raised the water level in the new pig pondlet and added water to Mystery Pond. It is named that because the dam is shaped like a question mark with the cable trolley boulder being the dot.
There was a lot of lightning. An early bolt produced a surge on the phone lines which blew out one of our surge supressors before I was able to unplug phones. We get so much lightning that I have surge supressors setup on all power, data and phone lines in series. A violent storm like that can blow out as many as three. Fortunately it didn't get to the equipment behind the Panamax supressor.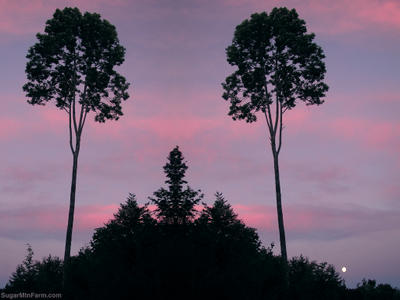 This is my new desktop background. Moon rise at sunset. Click on it to see the full size version and study it carefully… It is not quite the same although it may seem so at first. If you like it, feel free to download it for your own screen saver or desktop picture.