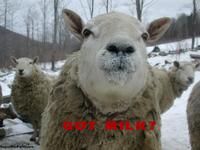 A friend says I haven't said enough about our sheep. They're feeling baahhd! Okay, okay. :) So, I've changed the photo in the header to show some of our sheep. The big one in the back is a sheep that goes "Oink". :) So, what should I say about sheep… They are really good at eating brush. They'll even tip down sapling trees so they can eat the leaves off the top. Aspiring giraffes. Sometimes they'll stand up on their hind legs next to a tree to reach up and get the leaves.
You can milk sheep and make excellent cheese. In fact, my favorite cheese, Roquefort (a.k.a. Blue Cheese), is made from sheep milk. Someday I hope to try making some. Chris, the above mentioned friend, keeps dairy sheep and she has made cheese from their milk.
Sheep also produce wool. This is a blessing and a curse. It means you have to shear them from time to time. That is a hassle. But, once you get it off them, the wool is eminently useful. As long as the aforementioned sheep have not spent time in the burdock like ours did one fall. Grr… Think 200 lb piles of velcro!
Sheep make excellent lawn mowers, as long as you don't mind the little round packages of fertilizer – I don't mind. Years ago we bought a lawn mower from Sears. That fall we got sheep. I haven't used the lawn mower since. At the five year mark when the warrantee was about to run out Sears called my wife up and tried to sell her an extended warrantee. Holly said, "No thank you, we never use the mower."
The sales clerk asked, "Why not, is it broken? You know it is still covered by the warrantee."
Holly explained, "No, the mower is in perfect shape, like new – we just don't use it."
"Why not?" asked the clerk?
"Well, right after we got the mower, we got sheep."
"Oh!" said the person from Sears with a laugh.
So, what, you ask, is with the sheep with the milk mustache? That is RamOne – our main man. He just had a drink of milk and was making funny faces at me trying to figure out if the camera I was holding might be good to eat. Baaahhd idea! If you click on the photo of RamOne you'll get to see a larger version which I used in the spring for my desktop background picture. Feel free to snarf it for your own personal use on your desktop if you like.