This has been a rough day. Nothing to do with farming. Our web hosting service upgraded their server software and it was a disaster. A big waste of my day and this is not the first time. It seems this happens about three times a year or so. Big lessons to support please: wait before updating, test before updating, do not apply automatic updates, backup before updating, do non-critical systems first, wait, finally update critical systems. It is making me think seriously about bringing our hosting inhouse now that we have DSL (Wheee!) and a spare notebook computer that could do the job. Maybe I'll look into this more over the winter when things are slower. Too much outdoor stuff to do while the weather holds.
On the positive side of things, this afternoon when I went out for a walk to check the animals all of a sudden I found myself surrounded by baby chicks. They must be only about two days old and were chirping and scurrying all around my feet with one of the hens. Many different colors. I suspect she had hatched a communal nest of eggs from many different hens.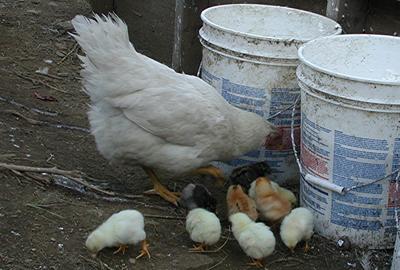 This is the first batch of chicks that we have ever had hatched by a hen. Currently we have chicks in a brooder that are about to join the adults. Those I had hatched in my home made incubator which I just revised last week and started a new set of eggs in on Monday of this week. Details to follow.