I am not currently taking orders for cut meat. With the pandemic and everything I am taking this year to do upgrades on the butcher shop and farm. I have a lot of smoked bacon, smoked hams, smoked ham steaks, smoked trotters, smoked hocks and smoked jowel (similar to bacon).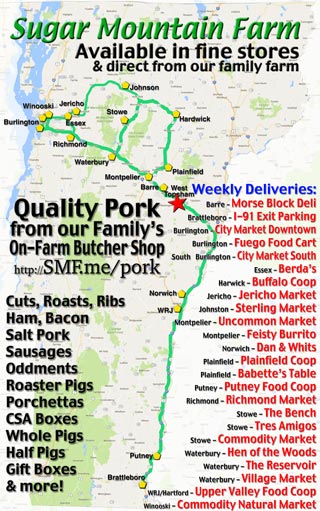 (Click For Big Picture)
If you are a licensed store, restaurant or caterer with a tax ID number looking to make volume purchases on a regular basis
contact us
for information.
Please realize that it typically takes time to get into the ordering process, especially for the high-on-the-hog cuts of meat which are in greatest demand. Existing standing order customers get first pick of the pig each week. Get into the delivery schedule through buying low-on-the-hog cuts and being creative with your cooking – help to eat the pig nose-to-tail. Then as you gain seniority in the order process let us know what else you would like in the future – as higher end cuts become available we'll let you know.
Wholesale Redistributors:
We do not sell through wholesale redistributors since we have our own established weekly delivery route throughout Vermont.
Normal Weekly Schedule:
Wednesday: We pickup last week's pigs's carcasses from the slaughterhouse
I make up my orders cut sheet and print labels;
Thursday: We cut meat;
Friday: We cut meat, do ground and some sausage;
Monday: We pack chilled sausage and sort orders;
Tuesday: We deliver to our north and west routes; and
Wednesday: We deliver south route & take pigs to slaughter starting the cycle again.
It is ideal if I get wholesale orders and adjustments to standing orders by Wednesday noon if there are cuts involved. Sooner than that is better. The longer you wait the less the fewer the options available. The schedule is actually two weeks long as we take pigs down the week before for slaughter so there is a rolling schedule where we drop off pigs and pickup carcasses each Wednesday. This allows for a one week hang time for aging which has been scientifically shown to improve meat quality.
I say "normally" on the schedule because if there are holidays, snow or ice storm then we end up shifted – this happened the other week. This happens occasionally in the winter since we don't drive in bad weather – safety first.