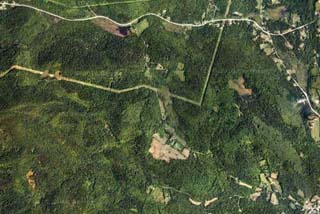 "In addition to our roughly 70 acres of pasture land on Sugar Mountain we have about 900 to 1,100 acres of forest land. That may seem like a big variance but realize that is only +/-10% over a large area – doing an exact survey on large steep sloped irregular parcels is difficult and depends also on are you counting the vertical slice or the ortho-photo land area along the slopes of the mountain which can make a big difference. The deed says a ridiculously precise 892.2 acres and one of the forestry surveys came out to be 1,096 acres. Take your pick or just say Walter the Pooh in the Thousand Acre Woods.", a joke that Holly makes.
We also like to say that we live in "The tiny cottage in the big woods." This is a play on the most excellent series by Laura Ingalls Wilder.
In any case, we live in a large forest which contains our farm area, marshes, woods that where we do sustainable logging, our maple sugar bush on Sugar Mountain and space for apple orchards. Because of the nearby large state forests and other private forests the area is very rural being predominantly farming, forestry and a bit of a bedroom community for Barre-Montpelier to our west.