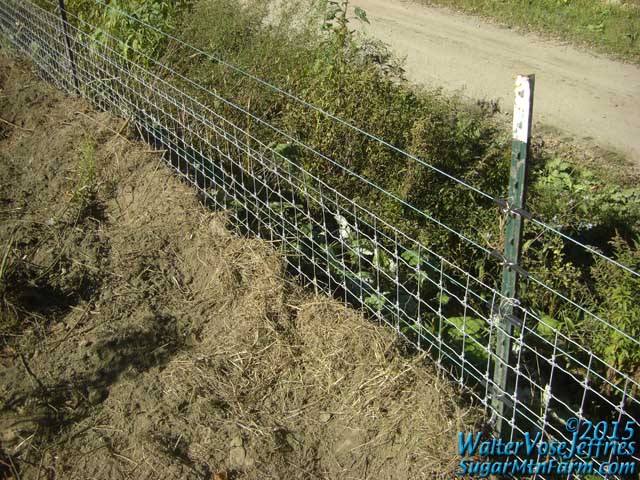 Pig Proof Fence
Pigs are not terribly hard to fence once trained to electric, provided the electric stays on and everything they want is inside the pastures where we want them to be.
Piglets on the other hand are more challenging to fence. They have not yet learned the fencing and they're small so they slip through quite easily. The fence above is pig and piglet proof. It consists of a mix of woven wire for the bottom part and electrified smooth wire for the top. Some places we put a hot wire low inside to discourage nosing. A hot wire low outside can discourage predators.
Our fences are evolving towards this. First we were using it in the weaning paddocks but now we're using it more and more. I suspect that over time we'll shift to most of our fences being like this.
Update 20170516: Still loving this type of fencing setup. Someone asked about the height of the woven wire section. I'm not out there to measure but I think that is about 24″ of high tensile netting fence at the bottom in that place. Since I couldn't find that short a fence what I did was split taller fences using my handy, dandy honking huge chop saw and a metal cutting blade. If you can find a source of low fence then it will be easier.
Also see:
Pigs Fixing Fences
More Fencing
Fence Lines 2
Line Fencing
Poultry Netting for Pigs
Moving Pigs With Fence Panels
Calibrating Pain
Dumb Pig, Smart Pig
Pig Trap
Fence Jumpers

Outdoors: 41°F/18°F Sunny
Tiny Cottage: 55°F/59°F
Daily Spark: We almost got a deer last night but my wife swerved the truck and we missed.