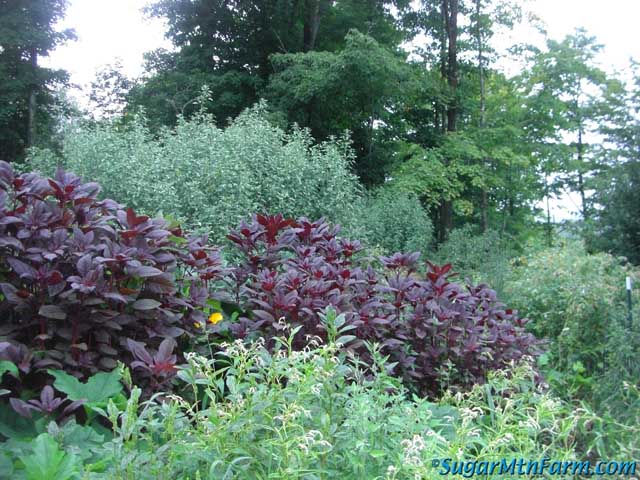 Amaranth
The tall deep red colored plant in this photo is one of several varieties of
amaranth
. It tastes a bit like spinach. Also visible in the forground is a green variety. This is commonly known as pig weed.
Further in the back is
lambsquarter
. These are some of the many forages that grow in our pastures.
People tend to think of pasture and hay as being a mono-culture of grass. While one could do it that way, we don't. Rather our pastures are a savannah style, a mix of trees, brush and open areas with ground forages. Some of those forages are grass. Others are legumes such as clovers, alfalfa, lupins, trefoil and other nitrogen capturing plants. We also have various brassicas, millets, amaranth, chicory and other plants.
In the particular patch shown in the photo there is something else that isn't out in most of our pastures but rather is a resident of our summer gardens which double as our winter paddocks. Looking closely you may spy the leaf and flower of a pumpkin plant.
All of these are things that the pigs love and thrive on. Variety is the spice of life.
Outdoors: 20°F/2°F Sunny
Tiny Cottage: 64°F/60°F
Daily Spark: Failure of one person or even 1,000 people to succeed is not proof of impossibility.