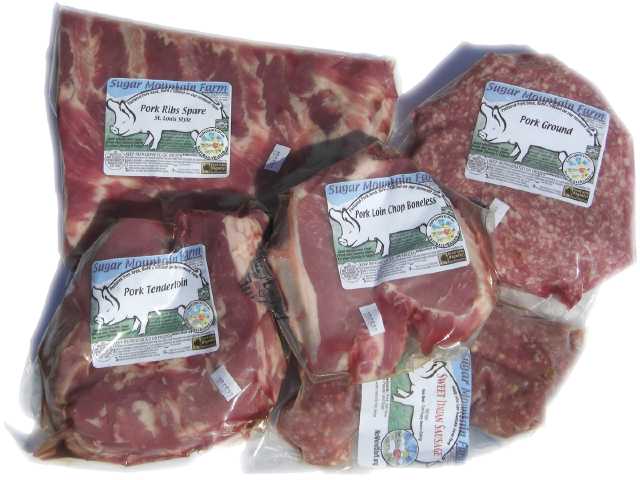 Meaty Mondays!
This is a historical article about the building of the butcher shop at Sugar Mountain Farm. If you're looking for the page about our products see here instead.
Now that we have closed in the butcher shop we've been working on shipping some of the initial CSA Pre-Buys and Kickstarter rewards. Yesterday's post raised some questions which I wanted to clarify:

Shipping now: Rewards that don't involve meat cutting in the butcher shop have started shipping. Examples: Oodles of Oddments, Party Packages of Roaster pigs, Goodies, Knuckle Dice, T-shirts, Posters, etc. We'll continue to work on shipping those as we simultaneously work on finishing off the interior of the butcher shop so we can start cutting meat. The Roasters and Oodles of Oddments are done by Adams Slaughterhouse in Massachusetts so those are not dependent on the on-farm butcher shop and were always scheduled to ship earlier than when we'll have cutting inspection for that reason.
Shipping In Winter: CSA and Kickstarter Pre-Buys of cuts and sausages to in-state Vermont address. These pre-buys require the butcher shop so they won't ship until we have the butcher shop completed to the necessary level for cutting meat which I anticipate in the winter, perhaps February or March. We're making great progress every day towards this. These include sausage, bacon, ham, cuts of pork, quarter pigs, half pigs, whole pigs and the like.
Of the pre-buys dependent on the butcher shop, the ones that are in-state shipping or local delivery within Vermont will ship first since we will initially have a state license and inspection. By law, we can't ship or deliver meat across state lines with just the state inspection. Out-of-state backers who want to come to Vermont either to the farm or to meet us along our weekly delivery route will also be able to get their rewards during this state inspection time frame.
Shipping in Late Winter or Spring: The next step after state inspection is for us to get our USDA license which will allow us to ship to addresses outside of Vermont. It appears that takes one to six months based on my discussions with the USDA, state and other butchers. Since we built a brand new butcher shop to meet and exceed USDA specifications I am hoping that we'll be on the shorter end of that time scale. Once we have our USDA license and inspection we will then begin shipping quarter pigs, half pigs, cuts of meat, bacon and sausage pre-buyers who are outside Vermont – this includes both the earlier CSA Pre-Buyers and Kickstarter rewards.
Shipping Later: Some people requested that their bacon and hams be smoked here at Sugar Mountain and want to wait until the smokehouse is up and running under USDA inspection. A few people asked to wait on their meat until we have slaughter on-farm and under USDA inspection so their pigs can be bred, born, raised, slaughtered, cut and smoked on-farm. I anticipate that to be in the fall of 2013. Those who chose this can change their mind at any time to the earlier ship dates.
Someone just asked on yesterday's post if they could get smoked meaty ribs instead of bacon or ham and that is a yes!
Thanks again for all your help in making the butcher shop on Sugar Mountain Farm a reality!
Merry Christmas,
-The Jeffries
Outdoors: 36°F/22°F 2″ Snow
Tiny Cottage: 66°F/62°F
Daily Spark: It  isn't pollution that's harming the environment. It's the impurities in our air and water that  are doing it. -Dan Quayle