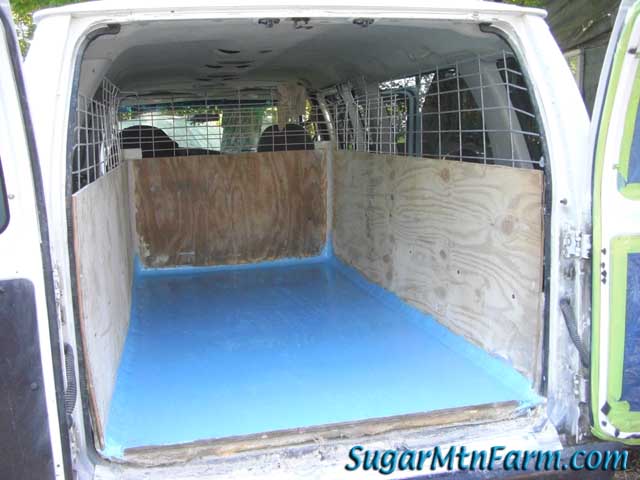 White Stretch Pig Limo Interior – Wet Bar not shown
See future Stainless Steel Liner
It was a 24-hour day. Plus some. We left at 7 PM on Wednesday and returned at 7:23 PM on Thursday. We had loaded up pigs including a big boar and were concerned about them getting down to the slaughterhouse quickly. They were calm but it was too close to a ton of pig. Even with the windows open, ice cubes in their sparkling mountain water and the fan blowing the air around in the back of their luxury limo we didn't want them stressing there for too long. Our pigs ride in comfort taking up the majority of the interior of our
E-350 extended body van
but we still like to minimize their road trip time.
The other reason it was such a long day was I for,
"the head of Guy Noir."
This entailed waiting until he came up in the slaughter queue and was processed. He was a big boar with massive tusks. Getting the head whole with the tusks in it maximizes the value of the pig. Warm and fuzzy is nice but this is not an piggy old folks home. The farm must pay its bills and every bit of the pig is good, even the teeth. Especially big
tusks
.
We are really looking forward to the day when the long weekly drive will be a thing of the past. I am too. Without knowing it, so are the pigs.
Updated Stainless Steel Interior of Pig Carrier
Later we updated the pig carrier by sheathing the interior with stainless steel which protects the body of the van from urine and manure as well as being super easy to clean out.
Outdoors: 68°F/43°F Sunny
Tiny Cottage: 70°F/67°F
Daily Spark: Abstain from perfection.