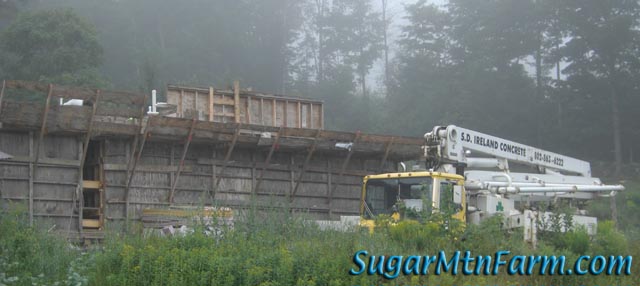 Concrete Pump Truck Arrival
Today we had a perfect pour. We like boring. Boring is good when you're pouring 26 cubic-yards of liquid stone. Boring is very, very good when you're encasing over a month's work of complicated plumbing and conduit into concrete as well as doing doors, windows, walls, ceilings and slabs all in one huge pour. Boring is very much appreciated.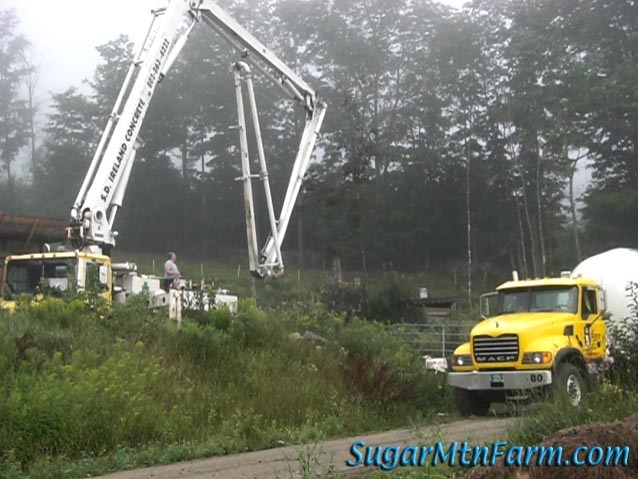 Pump Truck Unfolding – First Concrete Arriving
I love watching the pump truck setup. It is like a giant praying mantis unfolding and expanding skyward. Pump trucks save a lot of work and according to a friend they make for better quality concrete. He should know as he's been in the business since the 1960's, when they first got pump trucks and were working out the kinks. A pump truck lets us do all that we did today and finish before noon.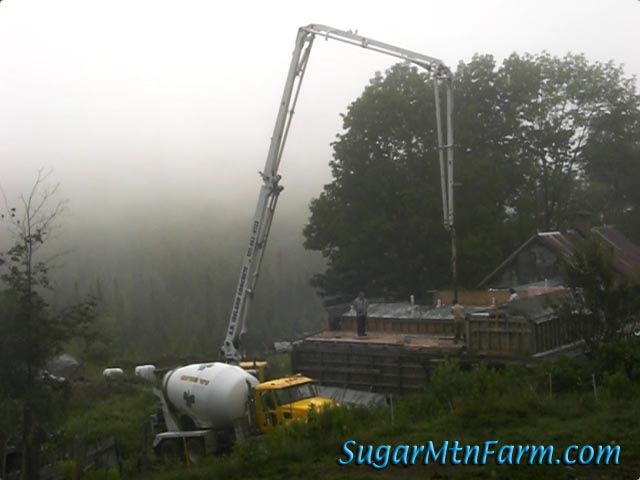 Concrete Truck Mated to Pump Truck
The concrete trucks dump the concrete into the hopper at the back end of the pump truck. Powerful pumps then push it up the long pipes and down the hose to where I'm placing it in our forms. The pump truck operator keeps the boom of the pump truck over me as I work.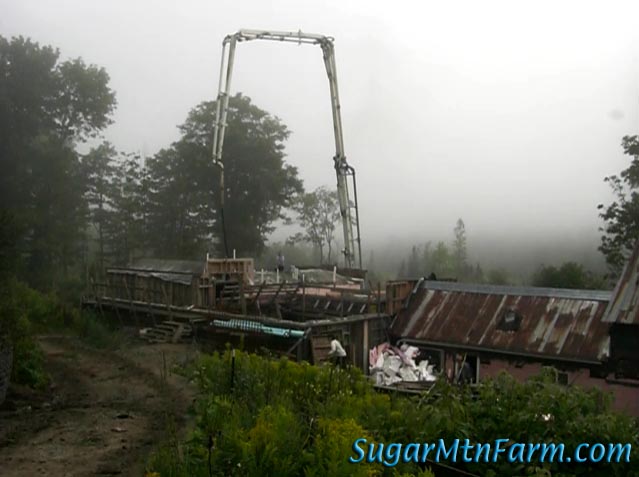 Placing Concrete Over Carcass Chiller
Today's objectives were to pour:
Walls of Admin which include the warm kitchen, smokehouse, hallway, inspector's office and bathroom plus laundry;
Ceilings of Admin;
Reefer rail spine beams and reefer second coat to add thickness; and
Freezer-Cooler-Brine (FCB) sub-slab containing PEX heat transfer tubes and sensor pipes.
We got them all done and everything went perfectly! No forms shifted, leaked, expanded or even grunted at us. We've never had a blow out but we did have a waler break once and another time a form bowed an inch. With the massively complicated conduit and plumbing in the tall walls and ceilings of the Administration quad we were very nervous.
It took me a long time to get all the framing and tubing done. That slowed things down as I was going very carefully since we're setting it all in concrete. As soon as I was done Ben and Will snapped up the final eight forms in the hallway and began bracing it all.
The reason I spent so much effort on embedding conduit and plumbing instead of surface mounting everything is it means we'll have a simpler surface that is easier to keep clean and sanitary. This means better quality control and less time spent cleaning in the long run. So I spend a month now to save years later.
As a bonus embedding saves space, something that is at a premium in our soon to be teeny-tiny USDA inspected meat processing facility – a.k.a. on-farm slaugherhouse, butcher shop, smokehouse and commercial kitchen.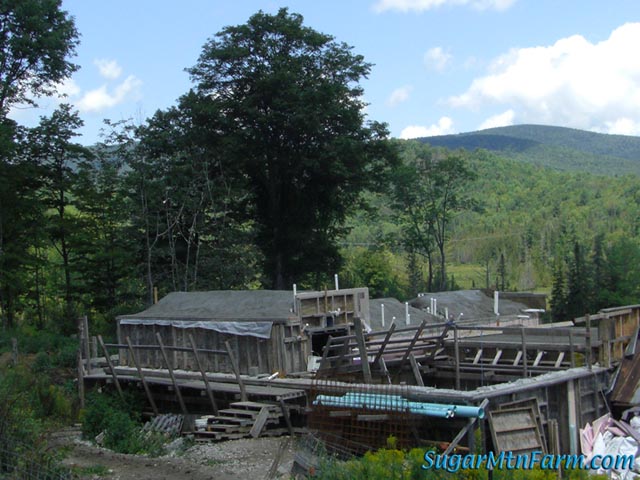 Finished Pour
The warm kitchen in the Admin section may end up being our initial cutting room. It is setup to allow for this as a short cut to getting meat cutting and sausage making on-farm sooner. Before snow flies though we're going to push hard to close everything in while the weather holds. These warm days of summer won't last. All too soon the snows will fly.
I had originally intended to finish off the warm kitchen for butchering but Will pushed for focusing on the close in with the argument that we can then work indoors once we've done that. A slight adjustment of plans but the goal is still the same – on-farm butchering and then slaughter A.S.A.P. We're really looking forward to not getting up at 2 AM for that long drive down to Massachusetts.
Tonight Ben and Will spun rods to free them up from the matrix of concrete so we can recover them from the forms for use in the future pours. Tomorrow we'll start knocking out braces. In four days we'll pull the forms and start setting up new forms for the bond beam ring pour that sets the even height of the next level. We'll also do the three insulated slab pours in FCB and the partition walls in the Abattoir. Step by step the butcher shop is shaping up.
But wait, that wasn't all we did today… That was just what we did before noon. Finishing early left the whole afternoon for more fun on the farm. Tune in tomorrow to find out more!
Outdoors: 80°F/60°F Sunny
Tiny Cottage: 75°F/72°F
Daily Spark: The reason Occupy will never succeed is that it is only 1% screaming at the 98% who want to be come the other 1%.