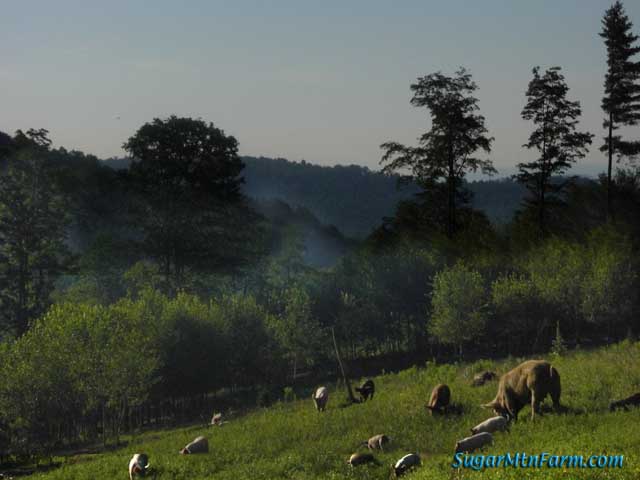 Growing Pigs
While doing rounds one morning the other summer I saw these piglets, growers, roasters and sow grazing in south field. Over the years several people have told me that pigs can't eat grass. I'm glad they didn't tell the pigs! Or maybe the pigs would just laugh. The reality is pigs graze very nicely on pasture. Perhaps more importantly, pasture is
not
just grass. It is a mix of forages including various grasses, clovers, alfalfa, vetch and many other nutritious greens that
pigs
can eat and digest very nicely.
The piglets in the foreground are some of those with the sow on the right but the others come from different litters over the past months. They all learned to eat pasture from their mothers. We've been selecting for pasture-ability among other traits since 2003. Over the course of many pig generations the ones that have done best on pasture we retained to become breeders producing the next pigs who are even better at pasturing.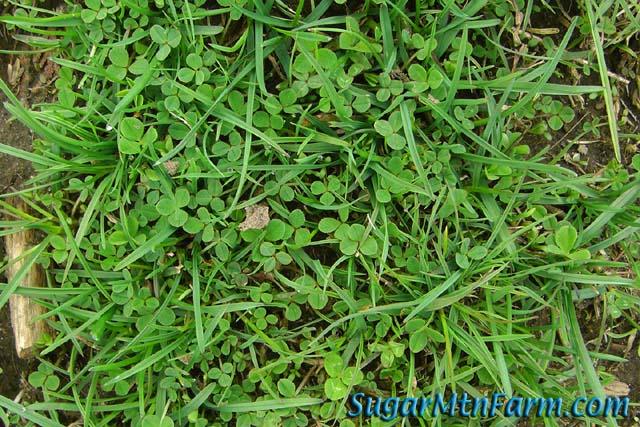 Spring Field Growth
The fields don't look that green yet since we just lost our snow, but this morning while I was walking it was good to see the grass, clovers, alfalfa and other plants sprouting up. The photo above shows what we do have, at least in one spot. The old pastures are now emerald green and the new ones are coming along well with great mix of the sunshine and rain we've been getting. Forages from last year have well rooted crowns and I see seeds sprouting that must be second generation from what we planted last spring. The animals are loving it.
Someone asked how much piglets are worth… It is an interesting question which depends on the pig, the location, the time of year and your goals. Holly keeps pushing me not to sell piglets because we make much more on the finished hogs through our sales to stores, restaurants and individuals.** Similarly I also get asked "Why are spring piglets so expensive?"
This question almost always comes in the late spring from folks who have failed to secure their piglets for the summer. They call up in May or June wondering why they can't find piglets anywhere. Everyone is sold out they say.
When they call to inquire if we have piglets I patiently explain, "Yes, we have piglets but they are all reserved out through the middle of June" or when ever the list extends to at that time. Most years the list keeps growing out through August or September. All too many people say they'll keep looking for some that are available now or for less. Most of them call back next week and find that the list has grown out two more weeks. If they keep doing that they then they end up getting fall piglets or none at all. Be proactive: Send a deposit and get on the list early.
So why are spring piglets so expensive?
The answer is very simple:
Supply & Demand
Supply Constraints:
Spring piglets are the hardest to produce since the sows must give birth (farrow) during the worst months of the year (November-April). It routinely gets to -20°F around here in the winter – during the day. That's twenty below zero or 50 degrees below freezing or -29°C! That's Freekin' Cold! Even I, who wears shorts in the winter, admits that is cold. How cold? So cold your breath hurts in your nose, throat and lungs every time you breath. So cold your bare skin will stick to metal. Then there's the wind! Oh, and that is a good year. In the bad years it gets to -45°F during the day and that lasts for weeks. Don't think about night when the sun's not shining. The good news is it is dry when it is cold – Blessings be praised. Yet everyone wants piglets that had to farrow in those conditions.
Hint: If you want to farrow pigs, do it between May and September, the easy months. This means breeding them in January through May. Note that I'm talking about outdoors in the north country, adjust the schedule for your climate, weather and seasons.
Sows also seem to cut down on their farrowing during the dark of winter – not surprising. Would you want to give birth in the worst weather of the year? Well, at least we don't get tornados, earthquakes, mud slides or hurricanes of any consequence. Things could be worse.
These factors greatly limit supply, especially for high quality pastured pigs. You could put the sows in crates inside heated, artificially lighted buildings and maybe they would produce more in the winter for spring piglets but that is rather antithetical. If you were looking for that you would be at the feed store buying piglets which got shipped in from the confinement feeding operation in Canada, Pennsylvania or the like. Instead you're here, on a pastured pig farm looking for pastured pigs so we won't consider CAFO or factory farm piglets. I know you don't want CAFO pigs any more than I do. What you want are piglets that learned from their mothers how to graze on green pastures, eat hay and thrive in our climate. You want quality. That takes both top genetics through selective breeding and proper raising.
Demand Curves:
On top of the limited supply the spring piglets are in highest demand because everyone and their mother wants to raise pigs over the easy months of summer.* In the summer the water doesn't freeze, the pigs gain weight faster, the pastures are full of lush forages for them to eat, you don't have to trudge through six foot snow drifts, life is easy, life is good. Who wouldn't want a pig in the summer? Who wouldn't want to lie around in the pasture all summer? So everyone and their mother tries to buy piglets in April and May. If you tell them June they grumble yet they'll be back next week as if the list would have improved by then.
But they aren't the only buyer you're competing with… Our own farm is the number one customer for our piglets. We are a farrow to finish pastured pig farm. We breed pigs so we can raise them to sell the meat. We have about 40 breeding sows. We can only sell weaner piglets after we meet the monthly quota for our own wholesale and CSA meat customer needs – which we must predict ten months out in the future. We need fresh pork for our customers every week of the year. Year round fresh delivery is our niche and that is why we developed the methods for farrowing all year in the snows of Vermont. It's much harder to do in our winters than in summer but we must have the piglets every month. The ones born in the winter, which give spring piglets, we need in order to fill the orders for our primary customers, stores, restaurants and CSA buyers. Weaner pig sales are secondary and just a seasonal market. That is reality. The meat customers are the ones who bring home the bacon for us. They pay our bills year round instead of just in the spring. As such, they get first dibs.
Solution:
Buy piglets in the fall when you can get them at a reduced price because demand has dropped and supply is up since we've been farrowing over the easy months of summer. Correspondingly, we drop our boar weaner prices in the fall. You'll just need to raise them over the winter. It is doable – just harder. Alternatively pre-buy your piglets early to get a big discount.
The Math:
A sow gestates for about 114 days. That's three months, three weeks and three days as the saying goes. Roughly. Give or take a week or so. Sows don't use calendars. They nurse the piglets for about six weeks. So it takes us five months from breeding to weaning to produce a weaner piglet. Then in about five more months that piglet is ready to sell wholesale as a finisher hog.
That is a ten month production cycle. We get $630 per finisher pig hanging at the butcher. (2011) That must support government, the butcher, the baker, the banker, the hay maker, the van, the electric company, the phone company, the insurance company, the fencing, the sows, the boars, the working dogs, miscellaneous other costs and oh, the farmer too. Sustainability includes having the farmer earn enough to stay in business and be there to provide product next year, the year after, etc.
$630/pig divided by ten months means we get $63/month/pig making the value of the piglet out to be $315 each (5 months x $63/month). I can't sell a weaner for less until I have filled all of our orders from our meat customers. Simple economics.
El-Cheapo Alternative:
You might be able to find cheaper piglets at auction or off the back of a truck from out of the factory farms but ask yourself, "If cull pigs are such a good deal then why doesn't Walter bother buying those?" Hmm…
"For years I got pigs from [Sugar Mountain Farm] and was delighted with them but then one year I bought them from someone else who was cheaper. What a mistake. In the end the other pigs cost a lot more with the vet bill, higher feed costs and slower growth. This year I'm back to buying Sugar Mountain Farm pigs."

-Sharon Zecchinelli, Homesteader & Chef, Enosburg Falls, Vermont
---
Recommendations:

Buy piglets in the fall when prices drops.
Put down a deposit when you reserve piglets.
Do a CSA Pre-Buy of ahead of time to get a big discount.
Include full contact info (name, address, phone, email) with payment.
Read up about pigs before you get yours.
Get your pig space arranged well in advance.
Show up prepared to transport your piglets home.
Check your piglets before you leave.
Ask questions if anything isn't clear.
Use email – farmers, especially these ones, are outside most of the time. Email is great.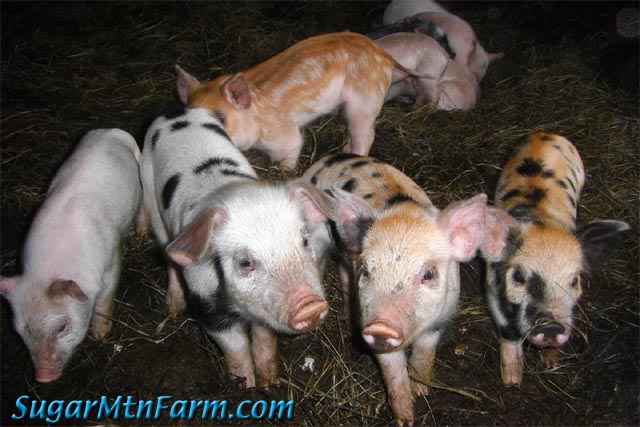 Winter Piglets
What I just told you is the short form, the simplified version of the story. There's another factor that makes the piglet worth even more than that and cost even more than that. The hardest work and highest risk of raising the pig is during the breeding, gestation and farrowing due to breedings that don't take, failed pregnancies, still borns, weak piglets, piglets lost in early life and sows that die during pregnancy or farrowing. The farmer is taking a lot of risks that the customer never sees. Once a piglet has reached weaner age the hardest work has been done.
To produce a piglet means keeping a sow. It takes about 240 days (8 months) to get a gilt (female pig) up to breeding age before she can even mate. Not all gilts are fertile and only about 5% are of prime breeding quality. The sow typically produces about two litters a year, three with a really good sow like Blackie. The sow needs to be maintained for that time, cared for, fed, housed, fences kept up, etc. This adds greatly to the cost of the piglet.
There is the other half of the equation: One must use Artificial Insemination (AI e.g., Sex with Pigs), Rent-a-Boar services or keep a boar on hand in order to get the lady pregnant. We're not talking immaculate conceptions here – this is barn yard sex ed 101. It takes a guy to get her pregnant and he's big. Very big. And all he wants to do is lay around, eat and have sex. Did I mention eating? Boars eat a lot which greatly increases their cost. In fact, you need to be pretty serious about sows to justify a boar. Fortunately they're not monogamous. This further raises the value costing of the piglet. Those little guys must support 1,000 lb boars living in style. You have to sell a lot of piglets before you pay for six months of boar and sow banquet. Then she can have another litter to pay for the next six months of upkeep.
Result: Piglets are really worth about $350 to $400 each. (2011 dollars)
When we sell weaners they're underpriced. We sell them for less than their actual value. This is the difference though between real value and market demand pricing coupled with the fact that I can only sell the ones we don't need for our own farm or Holly will wring my neck. I aim for a price that balances supply, diminishing sales and market saturation. I sell quality and must charge accordingly. This means my prices will be higher than that of culls from the factory farms and piglets dumped at auction. I also price the sexes differently so that almost all sales are boar weaner piglet price and a great many are at the discounted price for people who reserved last year – Smart folks!
So why are gilts more expensive than boars," you might ask? Good question! You can stay after the class and clap the erasers – its fun! I keep back the top 0.5%† of the boars and 5% of the gilts as possible breeders. I raise these up the extra months beyond market finisher age to breeding age and test them to see what their piglets are like – that takes about 18 months per round of tests. Since I keep more females than males for breeding it means given my druthers I would rather sell a male than a female for meat. I need fewer replacement boars (they service about a dozen sows in a set) and I have so many to choose from. I have more need of replacement gilts. Selling more boars than gilts means I can then watch the gilts grow up keeping a keen eye out for that special one in twenty. With boars it is one in 200. Thus boars are more affordable biasing my sales numbers by sex.
"The piglets I bought from Sugar Mountain Farm behaved exactly how I wanted: like old fashioned pigs! They were well trained to the electric fence, rooted like champs, gained weight quickly and produced very tasty pork. We moved them around our field and the pigs did a wonderful job of tilling and fertilizing the field. And I have never had a single health problem (not one! not even worms) with piglets from Sugar Mountain Farm."

-Abby Duke, Chef, Farmer & Restaurateur at

Sugarsnap

, Burlington, Vermont
As noted, Holly would like me to sell fewer piglets. I like selling piglets because it gives us market diversity and elasticity in our supply. It makes us less dependent on any one form of income. Diversification is important. I figure that in hard economic times there is more demand from people who will want to raise their own pig over the summer. Even if the price were $300 per piglet it would still be an excellent buy since a family can produce about 200 lbs of pork for that price on pasture, pre-consumer kitchen scraps and garden gleanings. It can be done without buying expensive grain based commercial hog feed.*** This comes to only $1.50/lb which is a wonderful deal for all natural pork you know was raised right.****
The second reason for selling some piglets is I can keep more sows which gives us more elasticity in our supply from breeding to market. This is important because sometimes life doesn't happen as planned. Once our boars caught a cold which resulted in reduced litter sizes several months later. A few extra sows makes the difference in keeping overall herd numbers up.
Diversification extends beyond just pigs. We also happen to be very good at eggs although we don't sell them – they go to feeding weaner piglets and some to the livestock herding and guardian dogs. We keep so many chickens because they are a natural, organic solution to pest control. If we had to do so we could develop the egg market and in the mean time there's all that extra protein for the weaners.
So the real question is, "Why are piglets so cheap?" The answer to that is that as long as I can produce more than we need I can keep the price down. If we don't have enough to fill our wholesale and retail sales of meat then I have to raise the price of piglets so we keep more to fill our fields to supply the finisher pigs for meat to wholesale and retail market customers.
Outdoors: 61°F/40°F Sunny
Tiny Cottage: 67/66°F
Daily Spark: Variety is the spice of life. -Anon
*Pigs grow faster in the warm season and slower in the cold season typically reaching market weight in six to eight months from birth.
**Of course, we would make more money per pound if we opened a store front and sold retail but I personally prefer letting the stores and restaurants do what they do best while I get to enjoy raising the pigs up here on the mountain. It simply doesn't make sense for us to raise pigs in downtown Montpelier or Burlington and it doesn't make sense for all of our customers to drive out here to the farm each week to buy a pair of pork chops. Thus the delivery route and role of your local merchants. It takes a village to get that pork chop on your plate. Something like that…
***Grain prices and commercial hog feed vary tremendously in price across the spectrum from organic to conventional feeds. Take any grain figure with a grain of salt and figure out what your local costs are. We don't buy commercial grain based hog feeds but rather go the pasture route supplemented primarily with dairy as discussed in my many articles about feeding pigs.
****This does assume you raise the pig yourself, feed it frugally and do your own slaughter and butchering. As you hire out each of these things then you end up paying more. There is also some infra-structure cost such as fencing but that's homesteading for you.
†Life on the farm is tough for guys. You get eaten. But it's that way in the wild too. More females than males survive. Very few males pass on their genes in most species. This is how the species improve, be it through selective breeding at the hands of the farmer or evolution at the hands of Mother Nature.