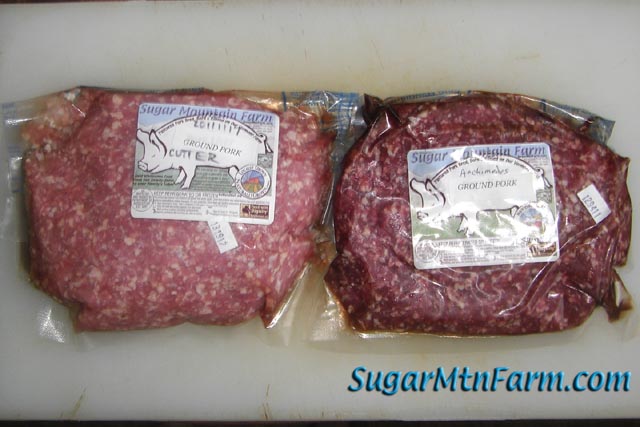 Finisher vs Old Boar Ground
The ground meat on the left is from finishers, six month old pigs. The ground meat on the right is from an eight year old boar, Archimedes.[
1
,
2
] Neither were castrated. The big boar was sexually active right up to within hours of slaughter.
I've written before about
Boar Meat
. Both burgers are meat from non-castrated male boar pigs. Neither shows boar taint – something we don't have on our farm. Because our pigs don't have the taint we're able to raise pigs without castrating which is more humane. Boar taint is a real thing and does existing in a very small number of lines of pigs but you can breed away from it, feed away from it and manage away from it.
Big Boar Ground Patty
I had expected there to be less fat in the big boar than other pigs since archimedes was leaner than even our usual pastured pigs. Our pigs are fairly lean because they are pastured and not fed the high calorie corn/soy based commercial hog feed. Big boars tend to be extra lean. The butcher related that Archimedes had almost no fat under his skin (backfat) and we separated the leaf lard out but the amount of fat in the ground suggests he had a goodly amount of intra muscular marbling which is highly prized as it adds to the tenderness and flavor of meat.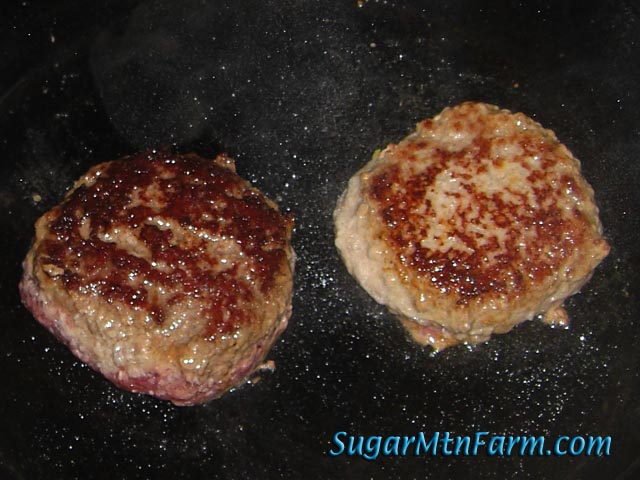 Boar Burger and Finisher Burger Cooking
Interestingly, the meat of the big boar (~1,157 lbs, eight years old) is redder and tastes almost exactly like beef. The smaller (~250 lb, 6 months old) finisher pig's meat tastes like pork as would be expected. In both cases they have the slightly sweet taste associated with the pasture and dairy feeding we do.
Both pigs were raised the same and fed the same. The smaller one is the offspring of the bigger one. This leaves the difference between them being age and the fact that the big boar was close to our herd foundation while the finisher pig is the result of over a dozen porcine generations of selective breeding on our farm.
The same can be said between the difference of veal vs beef. Veal is from calves that are just a few months old, perhaps up to six months old in the case of rose veal and the meat is lighter in color and flavor. Similarly, finisher pigs are relatively young animals at only six months old or so. This leads to the thought that much of the taste and meat color difference is just age.
Outdoors: 29°F/3°F Sunny
Tiny Cottage: 63°F/59°F
Daily Spark: Demonstrate by doing.