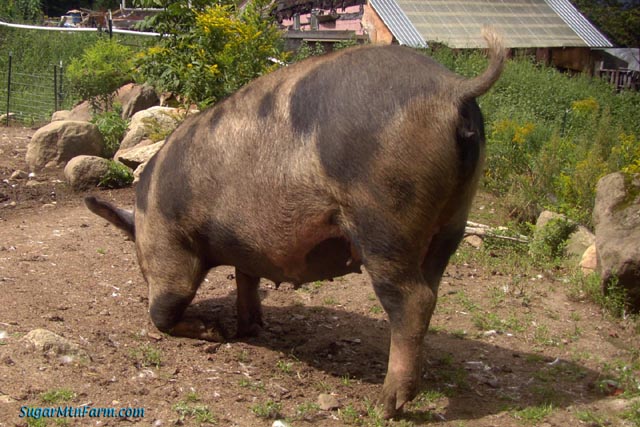 Gilt Beginning to Kneel…
This gilt is demonstrating excellent lay down technique. It is instinctual and a sign that she could be a very good mother.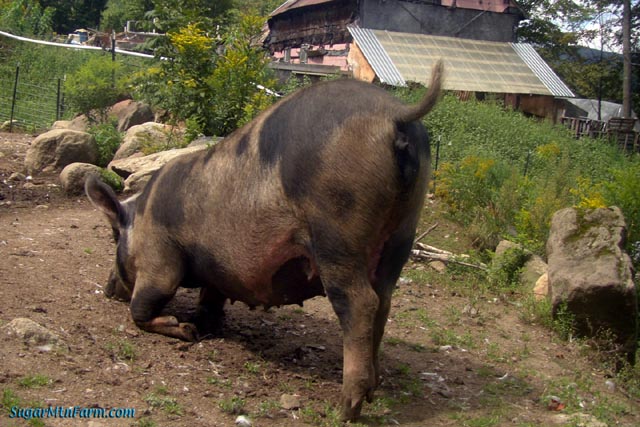 …Easing Slowly Down…
She is in good condition, not fat, so it is easy for her to lay down gently. Because our sows are pastured and have a high fiber, low calorie diet they're in excellent condition. This is especially helpful when it comes to birthing and nursing.
Sows fed on a high corn diet, typical commercial hog feed, can easily end up overweight. Adding confinement where they don't get as much exercise and it results in them having trouble laying down slowly – they have a lot of extra weight to manage.
Interestingly, there are two other consequences of overweight which I've read about: reduced milk production (in cows) and reduced litter counts (in pigs).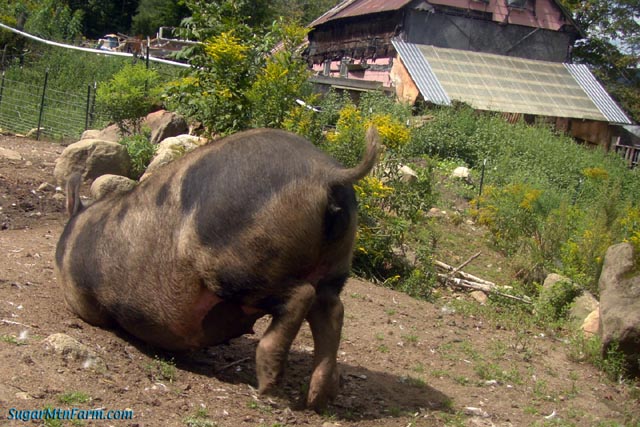 …Hindend Starting Down…
Being able to gently and gracefully lay down is important so that the sow doesn't crush her piglets. She gives them time to get out from under her and if they squeal she eases back up to let them move away and then slowly eases down again.
A graceful sow means the difference between life and death for piglets. Envision her as a ballerina.
See more about nesting in these articles.
In the background you can see the house end shed where we grew the big watermelons this year.
Outdoors: 62°F/43°F Partially Sunny
Tiny Cottage: 66°F/65°F
Daily Spark: The neat thing about Do-It-Yourself brain surgery is there are no pain receptors in the brain. Any idiot can do it.
Tail Note: No, we don't clip tails. She just happens to be a short tailed genetics which is a recessive trait.