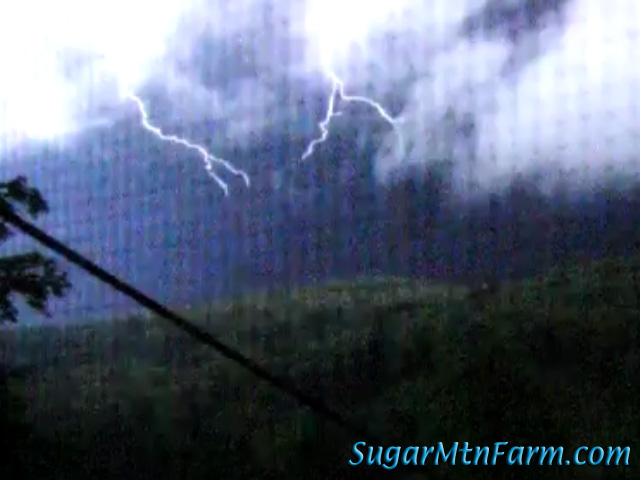 Normal Every Night Lightning
Thursday night while on the road doing deliveries the national weather alert had given a warning for tornados, not something we usually get in our area. I read that there had been baseball size hail already and a tornado progressing from the nearby city in our direction up here in the mountains. I setup our Casio Exilim EX-V8 digital camera recording video in the window looking across the valley and waited.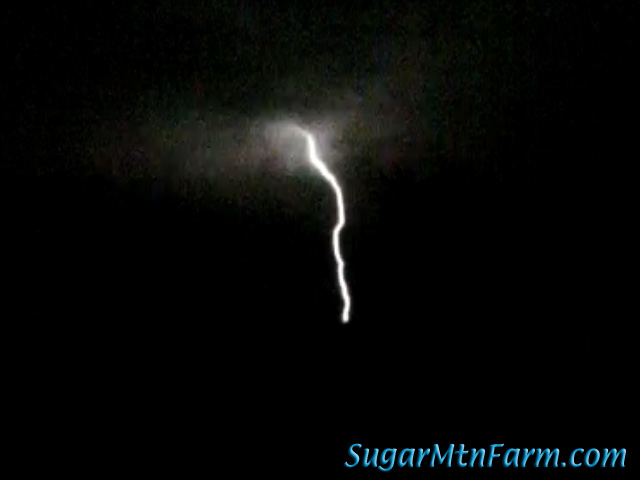 More Interesting Lightning Down to Marsh
The winds picked up and the thunder got closer and closer. The night sky flashed. Then we were rewarded with a spectacular thunderstorm and possibly there was a funnel with repeated thick vertical lightning strikes down its core. I have never seen a tornado before so this was a bit of a new experience.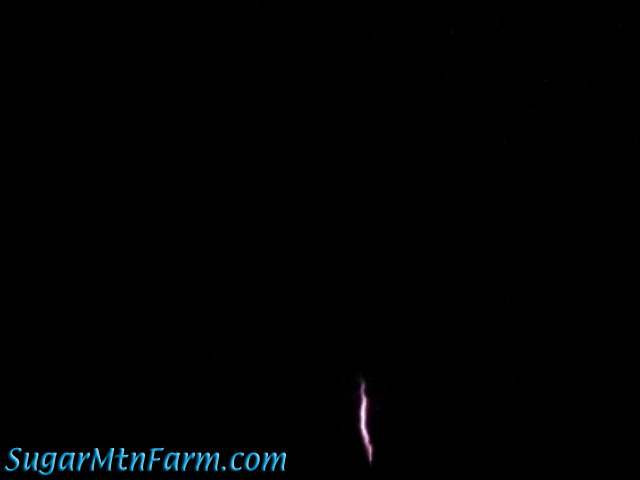 Marsh Striking Back Upward Moments Later
What we observe were not the usual sideways strikes that branch but instead single strikes that appeared to hit down over and over in the same spot before moving onward to a new area.
There is a vein of copper ore in our mountains and I believe that some of the activity we saw may have been the storm hitting the metallic rocks. At one point a white lightning strike comes downward and then shortly afterwards a purple bolt flashes back upward into the sky for several hundred feet.
What may be the funnel of a tornado being lit up by the strikes of lightning within it gradually moves south east across the valley and ridge.
The next day the trees looked fine so it may not have actually touched down. Our mountain slopes tend to break the winds up.
After the lightning started it's show the rain got very intense. We didn't get much compared with other areas, perhaps 3″ or so based on buckets.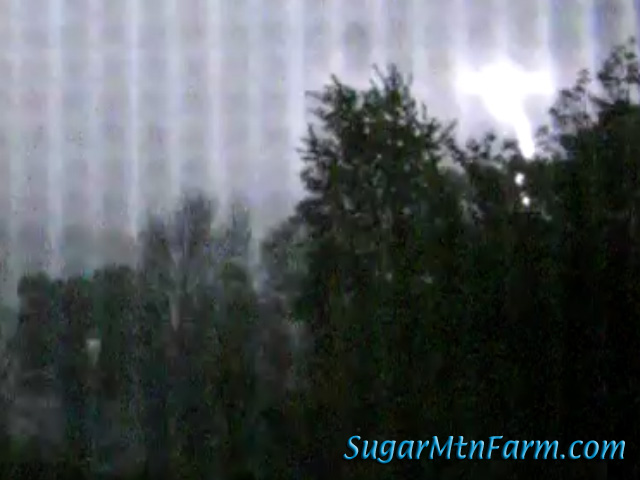 In Barre, Montpelier and other nearby towns they had a great deal of flooding due to the water pouring down from both the sky and the mountains. We read in the newspaper that one river went from 800 cubic-feet per second to over 13,000 cubic-feet per second.
When we got to Barre the town was flooded. Wood and other things were floating down the streets. The police had cordoned off the edges of the town. She couldn't get home. She went back up on the western mountains by the hospital and waited. Later she circled down south and was able to cross over finally getting home about mid-night. It had been a 22 hour day for her. Our hearts go out to all those who suffered real loss in this and other storms – We are fortunate to have not had any damage from the storm, just an exciting view as it passed by.
Outdoors: 80°F/47°F Sunny
Tiny Cottage: 67°F/65°F
Daily Spark: Don't read everything you believe.