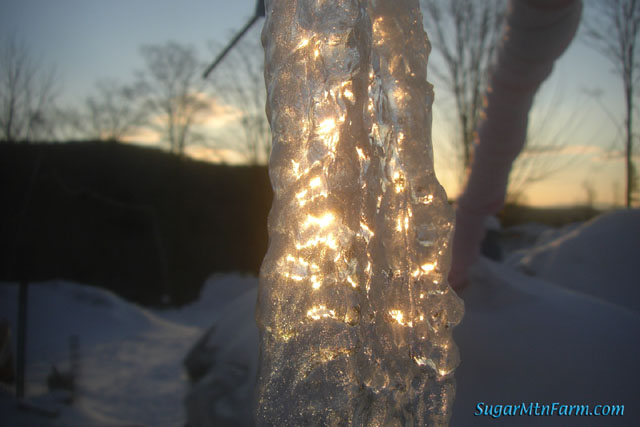 Wind Carved Ice
It was a pretty minimal meeting. We didn't take the
pigs
to meeting this year. Will did go as it was his first year
voting
at town meeting.
No big purchases. No new grader or dump truck. Belts are tight. Spending was level for roads and general town budget. Nothing fancy.
The big news was that long, long, long time town clerk Rita is working on continuity for her office – that is she announced she needs to hire and train an assistant to take over when she retires. She has been doing the job as long as I can remember. Town Clerk = Rita. Hmm… Can anyone else balance that equation? Can anyone else do what she does? Well, she means to make sure that somebody learns how.
Adrian did a good job moderating for his third year. Smoother than before. Amazing since it is a job he does only once a year.
The more interesting discussion happened during the school portion of the meeting where we set the school budget. It was very sad to look over the numbers. I routinely vote "No" against the school budget. They spend too much. $17,297.53 per student per year is absurd! But I felt sad looking at the budget because even though it had gone up almost $200,000, that is nearly 10%, the K-8 kids were getting gypped in a huge way. These are the ones who were supposed to be getting an education. They're not.
They are spending about $2,611,928 dollars to school about 106 K-8 kids and 45 highschoolers. About a third goes to high school tuition out of town since we have no high school, just K-8th grade. About 33% of that goes to special education which covers only a few kids. Virtually all of the increase in this years budget was in the special needs category. The school busses and the school building are all paid off and owned by the town. So why does public schooling cost such ridiculous amounts? Why are they spending college level tuition amounts on basic public grade schools?
1) Mandates – The federal government has mandated a lot of programs, especially in the special education arena. Much of this is mainstreaming I'm told. Much is having an aid for every special needs kid. The result is it cost about 5x as much to teach special needs kids than non-special needs kids. This leaves little money to educate the ordinary and the gifted kids. Since they're not getting the education they need their test scores are falling. About 50% of the students locally are passing the national standards. Ergo, about 50% are failing. That's an F, a Failing grade over all. Not good.
2) School Choice – This falls under the laws of unintended consequences. It seemed like a great idea, I'm sure, to let kids who didn't have a local high school choose which one they wanted to go to. The problem is they almost all choose the most expensive school. It actually costs more than college. This takes money away from the regular schooling of the K-8th grade kids because…
3) State Spending Limits – The state first mandates that schools must spend money (#1 above) and then that they can't limit costs (#2 above) and then it turns around and says that if you spend more than state defined averages you'll get penalized with less state aid. Not only do you get less state aid but if you spend too much then you have to send extra dollars to the state for every dollar you spend. So to spend one dollar takes more than a dollar. For small schools with high fixed overhead that becomes an impossible burden.
Oh, and did we mention, that the state now takes all of our local tax money, pools it together and then gives us back part of that, if we've been good (see #3 above).
The special needs accommodations is something that really doesn't belong in the school budget. It is more like health care. Society is trying to care for its weakest which is good but putting that budget item in with schools is crippling the schools and destroying the educational opportunity for all. The way it is setup right now is like saying we should use the school budget to provide social security, national defense, food, health care and housing all out of the school budget. Nonsense. Right? The school budget should be about education. It should get back to the basics. Sports, special needs accommodations and other extras need to be separated out and dealt with on a different basis and not through the school budget.
The result is that in order for the town not to trip the state spending limit wire they have to cut somewhere. They can't cut Special Ed. They can't cut High School spending. They can't even predict either one of these. So what they are forced to do is cut the only thing they have left, spending for the kids at the K-8th grades. Yes, indeed, they certainly did that. The school budget for those kids looks like someone took an axe and hollowed it out leaving only a bare skeleton. Even some limbs have been chopped off. Very sad looking.
The legislature, both at the state and the federal levels, are killing public schools with their mandates and regulations. I admire the school board for all the hard work they put into trying to make a budget out of nothing. The state and feds are killing the school slowly. The water is boiling. The pot is hot. The frog won't hop. I don't know where this will go.
I'm going to say something extremely politically incorrect: America's priorities are all screwed up. We should be pushing our best and our brightest to their highest ability rather than the ridiculous goal of No Child Left Behind that mandates that 100% of children must be mediocre by 2014. George W. Bush got it all bass ackwards with this law. Previous mandates (his is not the first or only bad mandate and no political party has a monopoly on this foolishness) have also screwed it all up by mandating spending but not providing support. Now instead of challenging the brightest to their highest level our public schools have become baby sitting centers. Education has become secondary, or lower priority somewhere below sports and warehousing of the kids during the day so parents can be cogs in the machine while they earn enough to pay Uncle Sam and buy goods to stimulate the economy so we'll have a really Gross Domestic Product. Very sad.
Our solution is that we homeschool. We can educated our kids better at home for 1/100th the cost of public school. Everyone else on our road in now homeschooling. I heard that 20% of our town is now homeschooling. A recent article said that state-wide homeschooling is up from 10% of the kids to 15% now. People are taking action at the personal level and solving the problem themselves. Homeschooling is no longer primarily a religious issue – it is people of all beliefs who want their kids to have a better education than they can get in public schools and they want to be involved in providing that education.
We still pay the taxes to support public school but at least our kids aren't getting damned by good intentions.
Outdoors: 24°F/8°F Some Sun, 2″ Snow
Tiny Cottage: 67°F/59°F
Daily Spark: Government needs to say "please" and "thank you" more. A lot more.