Cottage Across Upper Pond
Three years ago today we
moved in
to our tiny cottage. If you go visit that post you'll see a night time photo of our cozy cottage. Back then there was a lot of scaffolding up around the outside and the interior still had a great deal of work needing to be done – but we were in, snug as five bugs in their rug. It was wonderful.
The cottage stays warm through our cold Vermont winters taking only about 3/4 cord of wood to heat. Without heat it floats around 40°F or so. The little bit of wood brings it up to the mid-60's or above which my wife appreciates. Lots of thermal mass makes it work.
If I had it to do over…
1) Make the loft 1′ or so taller.
2) Put dormers in the sides of the loft roof and attic roof. This would have given more space in the loft although the kids say it isn't really necessary. It's their space.
3) More pockets honey combing the walls for shelves. I realize now I could have left a lot of holes in the walls and would have appreciated the storage spaces.
4) Get the earth air tubes installed – still on to-do list. Right now we just have rudimentary ones but I would like to get the real final tubes setup and working like we had in the old farm house where they provided pre-warmed fresh air all winter.
5) Make cottage 2′ wider and 4′ longer – we were working within the confines of a niche in the ledge which is why we ended up with the dimensions we did of about 20'x14′
All of these would have been great to do but we were racing winter at the time so we got done what we could. Even without these things the cottage is great to live in. I've threatened to raise the roof. I've done it before on another house… :)
Now three years later we have finished many of the interior details. The cottage is a work in progress, like a cathedral. Progress continues to be gradually made. We're all very happy to be in the cottage. It is easy to heat, easy to maintain, draft free and heaven after a decade and a half of living in the old farm house. Life just gets better and better.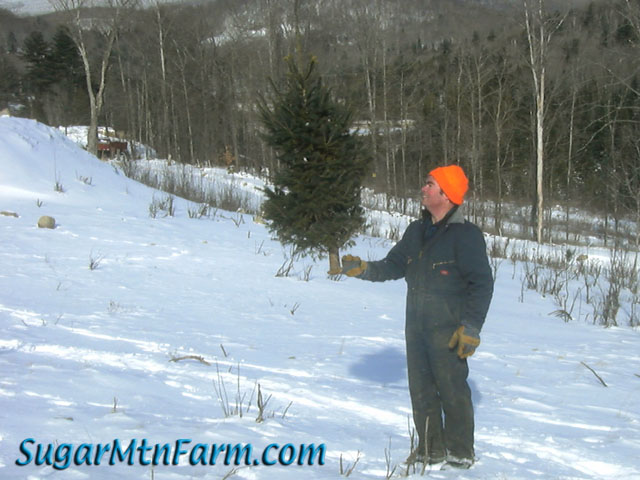 Tiny Christmas Tree
Just like three years ago we have a tiny Christmas tree for our
tiny cottage
. In fact, it is small enough that I can balance it on one finger. This tree was freed up when we cleared the south field in the end of the 1990's and the sheep have been pruning it so it has quite dense branches.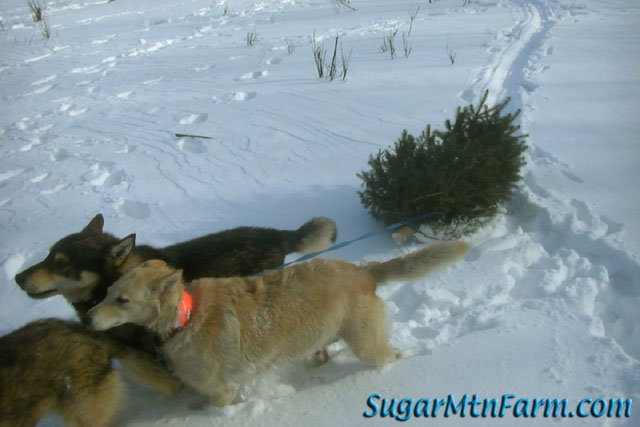 Dogs Dragging Christmas Tree Home
Kavi and Lili, led by their son Kit, dragged the Christmas tree home across the south field. A little sled dogging practice. The snow is perfect right now for that, not too deep but enough to slide across.
No shopping but fed the animals, put out hay, worked with the dogs, did some construction, made presents with the kids, kept the home fire burning, cut the Christmas tree & put it ups, made a blog post, enjoyed the sunny day… Snug now in the evening in our tiny cottage.
Merry Christmas to one and all!
-Walter
12/24/2010
Outdoors: 22°F/6°F Sunny
Tiny Cottage: 67°F/60°F
Daily Spark: Come to good things, one step at a time.