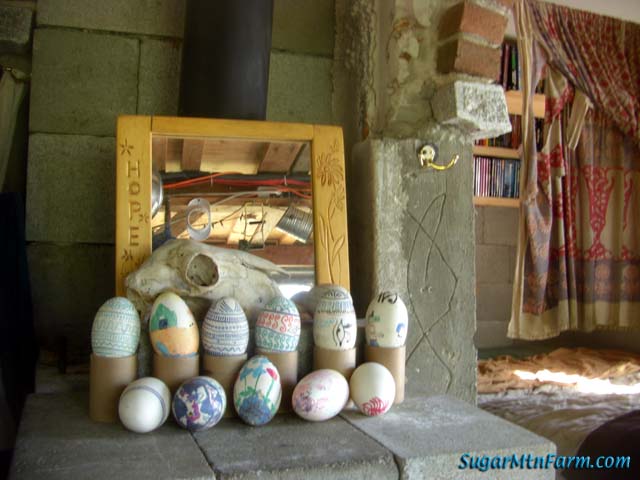 Goose Eggs Decorated
The geese are loud. They mow the pasture grasses. They lay eggs. For a long time they were all females so the eggs are not fertile. As such we've not had goslings born here on our farm. That may change though as Annie, our postal lady, recently gave us two young ganders.
Geese and ducks lay eggs only in the spring. Since the eggs were not going to hatch in the past due to the lack of a gentleman of the right species Hope, Ben and I blew them and decorated the eggs. Much fun and creativity. I like doing the geometric patterns. Hope does baskets of flowers, gardens, animals and scenes. Ben did the Egyptian designs and an Earth globe on an egg, carefully free hand sketching from a high resolution map of the world. The wooden framed mirror in the background was made for Hope. The skull is that of one of our old ewes, abandoned after she no longer needed it.
This was my 1,111th post. Interesting number…
Outdoors: 24°F/-1°F Mostly Cloudy
Tiny Cottage: 64°F/56°F
Daily Spark: Eat good food and enjoy life, neither will keep. –NoWeirdStuff.org