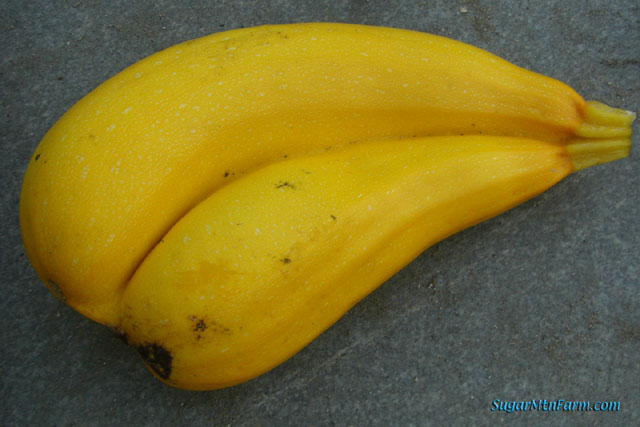 Siamese Twin Summer Squash
Life sometimes does some very interesting and unusual things, like these Siamese twin summer squash. Another was a tomato shaped like a star and then there was the huge potato shaped like a clown's face. Hold it one way and it was a happy clown, flip it over and it was a sad clown.
Take a look over in the right hand column of this page and you'll see what is referred to as a tag cloud. It has words in it like blog, farm, fencing, pigs, Vermont, etc. The words vary in size depending on how many articles are in the blog database for each tag. It is a handy way to get to similar articles.
Just above the tag cloud is a search box. Another good way to search the articles here. You can also use these two Google patterns:
Google for Sugar Mtn Farm
Google Images for Sugar Mtn Farm
for more powerful searching of these pages. These same techniques will work on other sites too. When you click on one of those links it should bring up a new tab or window in which the search will appear. Notice how the search pattern is worded. You can customize that to find cool stuff all over the web. Google, and other search engines, go way beyond the basics. Check out this page and Google Help. They're even tracking influenza search patterns.
Outdoors: 55°F/36°F Sunny
Tiny Cottage: 66°F/65°F
Daily Spark: "No man should be allowed to be president who does not understand hogs" -Harry Truman