Timber!
This past week we've been fencing the mile and a half of outside perimeter of our
new fields
and have started doing the paddock sub-divisions. One of the steps in the process is cutting trees that were fallen across the new fence line as well as some standing dead trees that would soon fall on the fence. Clearing trail on a mountain is a lot harder work than just blocking wood from a pile. Fortunately we had multiple people two switch off between for the task of the sawing and the other four of us worked at moving the cut logs out the way, clipping brush and such.
Will has been blocking up firewood with the chainsaw for our home stove for several years. This journey around the perimeter gave him a good chance to learn how to fell trees safely. He's seen me cut the birds mouth and release before but doing it the first time is exciting. After doing one he was eager to do more. He also got the opportunity to safely bring down several hung trees. We saw several widow makers but we left them standing for another day when we could take them down safely. Don't be careless with those killers.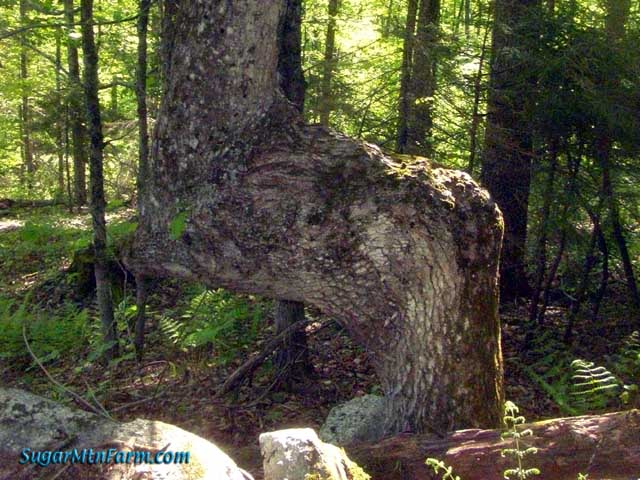 Elbow Tree
Heres a mystery photo for you… It almost looks like a chaise lounge! What caused this tree to be shaped like a chair? It goes up for several feet, turns a right angle and runs horizontally for several feet and then shoots straight up again. The tree is quite old and thick. It seems to be doing fine despite it's strange growth.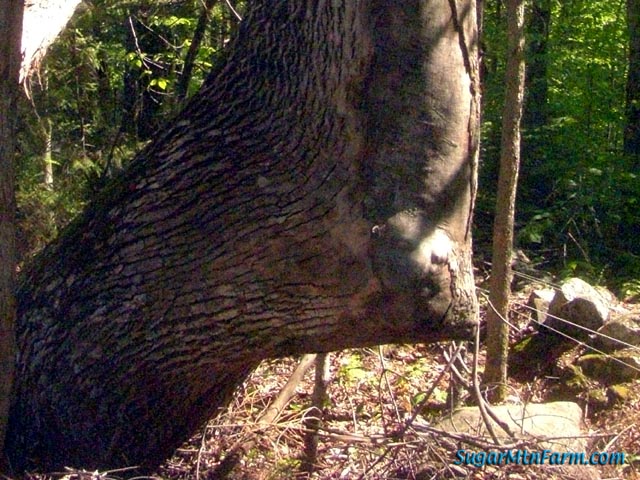 Elbow Tree #2
Here's another elbow tree with an additional clue. Look at that sharp funny bone. It's visible on the other tree too although not quite as prominent.
In addition to being an elbow this tree also was a bumper tree, but that is just a distraction. What's a bumper tree you ask? Well, during timber work when skidding logs through the forest one needs to make turns occasionally. A good logger plans the woods roads so there are some sacrificial trees, or boulders, who will take the brunt of the force when the 70′ logs go around the corners. This process skins the bark off bumper trees in the area they get hit. They do recover. We have bumper trees that have been used many times over the decades because they're at corners of major logging trails. That is ideal. They sacrifice some skin but in turn they save other trees behind them.
Have you figured out yet why the elbow trees are shaped the way they are? I'll give you a clue, it has nothing to do with being a bumper tree but it does have to do with where they are located in the forest. Both of these elbow trees, and a third I saw this day, are right along a stone wall.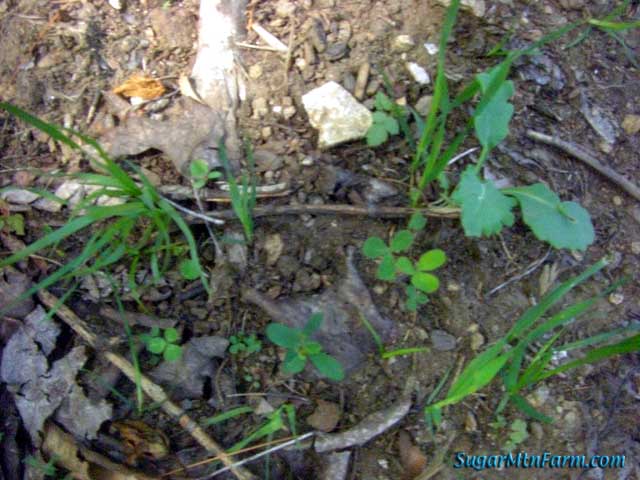 Field Seeds Sprouting
Will and Ben seed all of our new fields. The patch above shows some of the new sprouts coming up. Various
grasses
,
clovers
,
birds foot trefoil
,
alfalfa
,
turnips
and other goodies. This photo was taken at the south west corner of the far south field just after the snows were gone and the plant life has started to sprout. Our livestock are fenced out of this area for the summer so it will soon be thick with green growth. By fall it will make a great late season forage to help extend our grazing season through the early snows.
Thoughts on the elbow trees yet? Leave ideas in the comments and then after you've done that check the answer below. No cheating!
Answer: .ffuts ytsaN .eriw debrab fo stnuoma evissam pukcip eW .racs a tsuj si ti srehto ni ,seert eseht fo emos ni doow eht fo tuo gnimoc eriw eht ees nac uoY .ecnef eht fo thgieh eht dnoyeb niaga drawpu werg yeht neht dna syawedis ylprahs meht dellup taht ,eriw debrab ylbaton ,senil ecnef yb desuac era seert woblE

For those who don't want to read backwards just hold your cursor over the word "Answer" above and it should pop up an explanation in most browsers.

Outdoors: 72°F/43°F Sunny
Tiny Cottage: 70°F/67°F