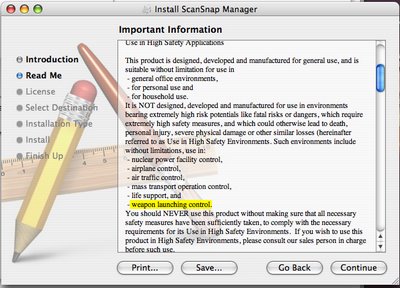 I got a Fujitsu ScanSnap scanner. It works very well, scans both sides of a page, multiple sheets and helps me with my goal of minimizing paper in the new tiny cottage. In the install software they have the above warnings not to use the scanner in connection with:
Nuclear power facility control,
airplane control,
air traffic control,
mass transport operation control,
life support, and
weapons launching control.
Shucks. There goes my plans for world domination via my scanner…
Thursday Outdoors: 10°F/-19°F Mostly Sunny
Farm House: 57°F/52°F
Tiny Cottage: 55°F/52°F
Friday Outdoors: 18°F/-10°F Sunny
Farm House: 52°F/31°F Dogs left kitchen door open all night
Tiny Cottage: 55°F/45°F