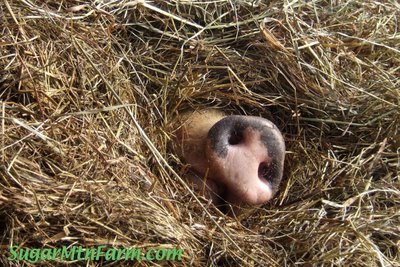 Mouse pig snuggled in for a winter snooze.
Over on
Living Small
Charlotte mentioned Heath's post on
Wooly Pigs
where someone asked him:
"From your posts, you seem committed to producing the highest quality meat for your customers with the best, most humane methods. However, you couch all concerns of the treatment of your animals in terms of the quality of the finished product. Do you strive to treat your animals well, over and above activity that will ensure a quality product? How can you reconcile the relationship you develop with these animals with the act of slaughtering them for food? Do you own pets?

I'm not trying to insult you but merely trying to understand what I, as a vegan, see as the cognitive dissonance of people like you who are intimately connected with both the raising and slaughtering of food animals."
This is a topic that comes up once in a while. I don't see any cognitive dissonance raising animals to eat. I have no guilt over eating another, be they mineral, plant or animal. Everybody eats to live. That is the nature of Nature. Even plants don't survive on sunshine alone.
Plants eat. We eat plants. Animals eat plants or other animals. We eat other animals. We in our turn will be eaten by plants, bacteria and worms – assuming you don't go for the wasteful cremation or preservation routes or perhaps tangle with another animal that eats you. It is the cycle of life.
I raise pigs, scratch them behind the ears, rub their backs, talk to them and make sure that they have a good life out on our pastures. When the time comes they will die for me – I cherish them both in their life and their death. Good life. Good food. A better life for them means better quality food for us and the customers of our small family farm.
Do go and read Charlotte's and Heath's thoughts on this topic. I am a bit less tolerant than Heath on pigs that bite. I cull hard for temperament in all our animals. The safety of me and my family is far more important than the life of an animal. There are other pigs who are more than happy enough to be pleasant and polite. Mean animals get culled to the dinner table. It's a simple rule and it works.
I like to know my dinner. Whenever possible I like to know where my food came from, whether I grew it myself or got it from another local farmer. Personally, I feel that I should be ready, willing and able to grow, raise, harvest and slaughter my own vegetables, fruits and meats although I'm not about to impose my belief on anyone else. What I don't like are the anonymous corporate factories that churn out identically wrapped packages of carrots, watermelon, chicken breasts, beef steaks and pork chops all too often with the labor of underpaid illegal workers. I don't call them farms because they aren't. They're assembly lines, factories, confinement operations, feed lots and worse. I also find it absurd to have what could be locally produced items shipped around the world. We don't need apples, lettuce and hamburgers from the other side of the ocean. The same goes for socks, granite and other goods.
Buy Locally, Do Good, Live Well & Prosper.
-WalterJ
Also see:
To Kill or Not?
Kindest Killing Blow
Outdoors: 39°F/17°F 1″ Snow
Farm House: 58°F/50°F 3 Round bales out, Louisa
Tiny Cottage: 49°F/39°F nada