Mikey asked: What kind of mixer are you using for your cement mortars? I see it mounted over buckets and it looks rather convenient.
It's a Husky brand Mortar Mixer pictured which has shown up in various posts about the tiny cottage like Partitions Half Up. We have three – two to use at once when we're really cranking and one for backup incase of failure. Most days just one is in use. At just $200 each they're a deal. I ended up getting the third because when we went to buy the second the woman at the store told us that they were not expecting to get more in-stock.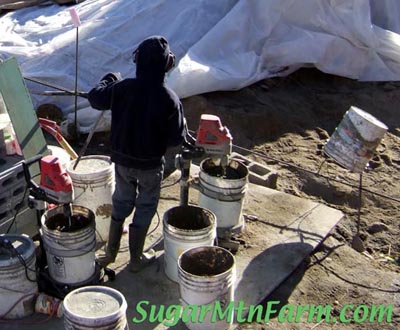 They are very well built, well geared and easy to use. The one we primarily use has mixed many (16?) cubic-yards of concrete – about 60,000 pounds in 900 buckets spaced out over almost one year. Wow – that seems like a lot looking back on it! Might be significantly more.
It fits our style because it is slow. We are a family – 2 adults + 3 kids ages 15, 10 and 4 – building a house together. We don't normally need huge amounts of concrete at once. Generally it is the application and form work that are the bottlenecks.
For the slab pour we hired in a ready mix truck of concrete. That was 8 cubic-yards which is a lot more than I would want to mix all in one day with the mortar mixer. The Husky is perfect for all the mortar work, parging, ferrocement, thin layers like the roof, the loft floors, core filling, etc. On our biggest single mix day, for the outer roof layer, Ben mixed 59 buckets which is about 1.475 cubic-yards. Will carried virtually all of that, about 3,600 lbs, up the ladder to me on the roof where I spread it. That was a long day. Soon we'll be pouring the loft floors but we plan to spread the pours out over several days which will make it easier.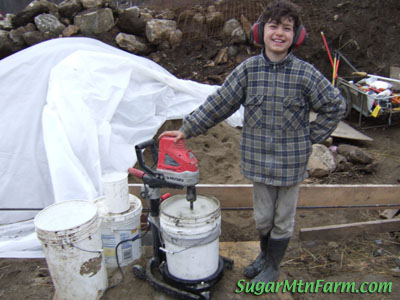 Ben, age 10, is our mix master. Using one mixer he cranks out about one bucket (~5 gallons, ~0.6 cu-ft) of concrete in five to ten minutes of any of the various formulas we use. When we're really cranking he keeps two mixers going but needs an assistant for helping sift sand and pour the big buckets into two smaller half buckets. When we started a bucket of concrete weighed more than him (he was 9) although now he has the edge over the bucket.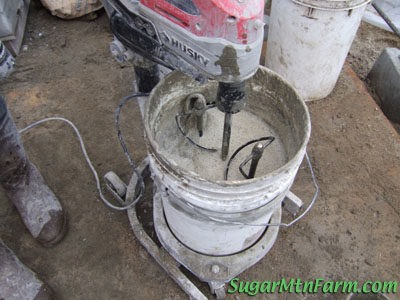 A good trick we use for cleaning the mixer is to fill it part way with water and dump in some course sand. Then run the mixer and it virtually self-cleans. The top of the paddles still need a little brushing. After removing the bucket of sand water we cover the motor and ground fault plug with a plastic bag. The mixer stays outdoors at the mixing station. The bucket of sand water can be saved for re-use next time – just let it settle over night.
We got our mixers at Home Depot about a year or so ago. Unfortunately they no longer carry them.
Googling I did find this, this and this. If you're ambitious and want something bigger there is this baby. On eBay I see this and this. Keep your eyes out for them.
Friday Saturday Outdoors: 54°F/30°F Sunny Friday, Rainy Saturday
Farm House: 65°F/59°F
Tiny Cottage: 62°F/55°F Exterior parging, stone cutting, loft window recovered