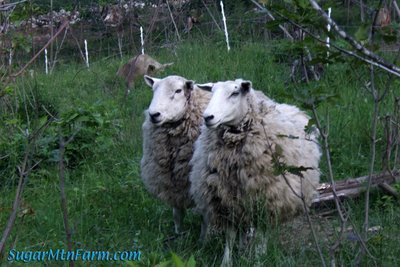 Ram 2 and Ewe
We used to have more sheep but over the years we've found we like pigs more so our focus has shifted and the sheep have dwindled. I do like eating them thus the dwindling. Lamb and barley soup has got to be one of my favorites. The sheep probably don't think much of my taste – they're always a bit suspicious of my intentions.
In the photo above they're keeping an eye on Cinnamon Dog who is eyeing them back and waiting to see if I'll tell him to take them home. He has his hopes but this time I didn't so he waited.
Behind the sheep is one of our matron sows, Mask. The sheep and pigs co-graze very nicely. In fact, the pastures do best when they have a mix of poultry, pigs and sheep, each of which grazes just a little differently resulting in the best mowing effect. In this photo they're down at the far end of section one in the south field. Beyond the paddock fencing is section two which they just moved out of this week.
All of that area was forest ten years ago. Fifty years before that it was pasture having originally been cleared by the settlers back in the late 1700's. In the distance you can see the stone wall that marked the edge of the original field and to which we cleared. After we cut back the regrowth we let the brush grow up for a few years, primarily poplar trees which make great forage and shade for the animals. Gradually the animals are recovering the pasture from the brush – their grazing patterns encourage the growth of grasses and legumes like clover as well as margin plants and animals such as the raspberries we love to pick along the edges of the field.
We've been doing lots on the cottage – Details to come. Up until now I've tended to have the windows and door shut to keep the humidity high for curing the concrete. All closed up the great thermal mass of the concrete keeps the temperature about 69°F to 72°F. I was curious about how the cottage would react to day and night temperatures with the door and window opened. The temperatures below are the answer – the house varies a bit more when opened up but still maintains a more comfortable range than the wooden farm house or the outdoors.
Sunday to Saturday Outdoors: 80°F/49°F Mostly Sunny, Two Rains 3″
Farm House: 77°F/56°F
Tiny Cottage: 72°F/59°F Sink pour, Arches, Parging, Ceiling Tests, Temp tests