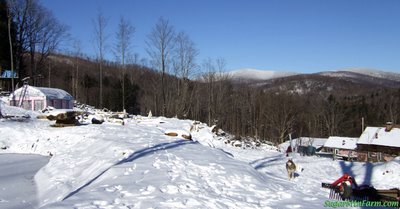 Today was a gorgeous crystal clear day. Sugar Mountain, Knox and Butterfield are frosted in the distance and quite stunning. It felt a lot colder this morning than the 4°F the thermometer read. One of those days when you breath slowly and shallowly with the snow crackling underfoot like broken glass. It was cold enough that the whey tank valve froze up despite the insulation. Fortunately a hammer and a thin rod did the trick to punch a narrow hole through the ice and then the warm whey melted away the rest of the ice so the pigs could have breakfast.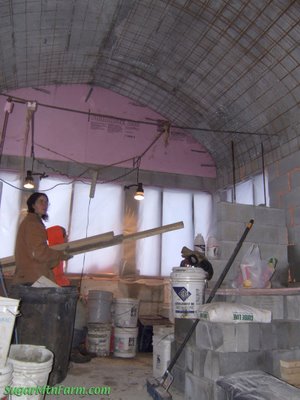 On the tiny cottage our big project for the day was moving materials inside so they could warm up to room temperature so we could do more concrete work for the attic and loft. Will, Holly and I brought in the partition blocks and then 30 five gallon pails of sand. The sand pile has a 2″ layer of frozen sand on the surface but is loose below that. The fact that we've kept it covered since we got the sand probably has helped keep it dry so even the 2″ of frozen top sand broke up easily. Amazingly, the original delivery of 12 cubic yards of sand is nearly gone.
The reason we moved 80 partition blocks (~2400 lbs, almost a pallet) and nearly a ton of sand in buckets into the cottage was they need to warm before we can start doing cement work with them. Concrete does not cure well below 40°F. Even with the accelerant I still would rather have the materials up to temperature before we begin work. If nothing else, it will make handling the materials more pleasant. Another important consideration is that these materials began at about 4°F and will take several days to come up to temperature – two tons of thermal mass to warm to room temperature. That will give us time to build the new forms and scaffolding.
While Will and I shoveled sand, Holly took the plans and began cutting the lumber for the scaffolding for the attic forms that will hold up the welded wire mesh for the ferro-cement. It may seem ironic that we're putting up forms when we just got done taking them down. I had considered reusing the roof forms but concluded it was really going to take more time to adjust them than to simply disassemble the old forms and setup correct new forms. Besides, this way we got some time to see the house without all that woodwork in the way!

Holly taking a rest on her new bed. It is super firm – excellent for the back! These are partition blocks spaced out for air circulation so they'll warm more quickly. They're stacked upside down since we'll need to break out the bottoms of the cores before dry stacking them so that we can pour the cores.
Outdoors: 22°F/4°F Sunny, 2″ Snow in the early morning
Farm House: 69°F/51°F four logs
Tiny Cottage: 51°F/45°F