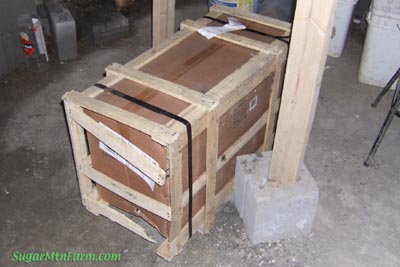 Holly says that is her favorite appliance. She likes to be warm. That is a woodstove, still in it's box.
When it arrived Holly said, "It's soooo tiny!"
Will said, "It's cute… I hope the insulation works!"
It is a very tiny woodstove, in fact the smallest I could find. This woodstove would fit inside our existing wood furnace that heats our old farm house. In fact, I fit inside our existing wood furnace as I got to demonstrate once when repairing it…
The stove is a Vogelzang. After I've opened it up, installed it and used it for a while I'll report back on how this little baby does. While it may be tiny, it only has a tiny cottage to heat so I'm not worried. Any thing larger would be too big and overheat the place. It does have a a two pot cook top so we can cook on it in addition to our electric cook stove. The backup is greatly appreciated during the winter when we get many power outages.
Outdoors: 37°F/27°F Rain
Farm house: 73°F/53°F 2 logs
Tiny Cottage: 53°F/48°F